U.S. Attorney General Jeff Sessions is a well-known opponent of legal marijuana, but his crusade on states that legalized cannabis is now on hold until December.
You see, while 29 states have legalized marijuana for medical use, it's still illegal under federal law. As attorney general, Jeff Sessions planned to use his authority to enforce federal marijuana laws in states where it's legalized, potentially crippling the legal pot business.
But his plan was just dealt a setback…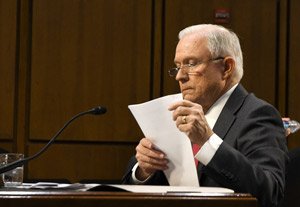 As part of a temporary budget deal struck with Democrats on Sept. 6, 2017, U.S. President Donald Trump agreed to continue banning the use of federal funds to interfere with medical cannabis businesses operating in legalized states.
According to Forbes, the agreement would protect state medical marijuana programs until Dec. 8, 2017.
While this deal doesn't end the short-term uncertainty around marijuana stocks, it's a sign Jeff Sessions isn't getting his way on pot.
And for forward-thinking investors, now is the perfect time to set up a long-term profit opportunity from pot stocks…
Not Even Jeff Sessions Can Stop Marijuana Stock Prices from Skyrocketing
Support for medical marijuana legalization is just too strong to stop, no matter how much Sessions dislikes it.
Right now, 29 states and Washington, D.C., have some form of medical marijuana legalization. Even West Virginia, considered a conservative state, signed a bill on April 19 to create a medical cannabis commission to give licenses to dispensaries and growers starting in 2020.
Special Report: Cannabis Is the Gold Rush of the 21st Century – 30 Stocks to Invest in Now. Details here…
In 2018, Idaho, Missouri, and Utah already have medical marijuana initiatives scheduled for their ballots. If those measures pass, 64% of the country will have legalized medical marijuana.
And as the country legalizes medical cannabis, recreational marijuana legalization won't be far behind.
In 2016 alone, California, Nevada, Massachusetts, and Maine voted to legalize recreational marijuana. And with Alaska, Oregon, Washington, and Colorado already legalizing recreational use, there are now eight states where all cannabis use is legal.
On top of that, Arizona, Michigan, and South Dakota may have recreational marijuana initiatives on their ballots in 2018.
Video
Marijuana Businesses Are Teaming Up with This Billion-Dollar Company
So as much as Attorney General Sessions may want to stop marijuana, he's simply too late to stop the momentum for full legalization.
Fortunately for our readers, there's still time to get in on massive profit opportunities from legalized cannabis.
And that's why, after months of research, Money Morning Director of Technology & Venture Capital Research Michael A. Robinson has created the "bible of weed investing" for Money Morning readers.
Here's everything you need to know about your next profit opportunity…
How to Get In on the "Gold Rush" of the 21st Century