Investors hoping to get in early on a media disruptor are asking what the BuzzFeed stock price is, but they'll have to wait a bit before the company goes public.
According to Fortune, the BuzzFeed IPO could be set at some point in 2018. That means there won't be a BuzzFeed stock price until the company goes public.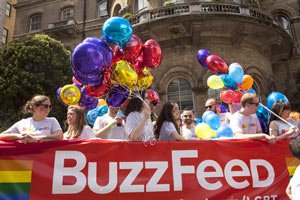 However, with only three months left in 2017, the BuzzFeed public offering could be just around the corner.
While we wait for BuzzFeed to announce an official IPO date, we wanted to make sure Money Morning readers know the most important details about the media company, including whether it's worth buying…
What Is BuzzFeed?
BuzzFeed is a media company based in New York City. It offers readers news, quizzes, celebrity gossip, and recipes. According to BuzzFeed's website, it has 200 million unique monthly visitors.
BREAKING: New Legislation Could Turn Tiny Pot Stocks into Millions. Click Here…
BuzzFeed designs its diverse content to elicit reader engagement and to encourage readers to share its content on social media.
For example, two of its top trending stories on July 5 were "NPR Tweeted the Declaration of Independence and Some Trump Supporters Were Offended," and "22 Outrageously Hipster Foods That Must Be Stopped." These headlines ignite readers' curiosity and entice them to click through to the site.
Because BuzzFeed is a private company, it hasn't released financial reports, so we don't know exactly how much money they make. However, according to a 2016 CNBC report, BuzzFeed's revenue in 2015 hit approximately $170 million.
CNBC projected the media company would hit $250 million in revenue in 2016.
As a comparison, The New York Times Co. (NYSE: NYT) reported $209 million just in digital ad revenue for 2016.
How to Retire at 60: Your Action Plan to Make the Most of Your Golden Years
Now that you know BuzzFeed's background, you might be wondering: Should I buy BuzzFeed stock?
Here's our answer, plus a special profit opportunity…
Should I Buy BuzzFeed Stock?