The legal marijuana industry is growing like a weed.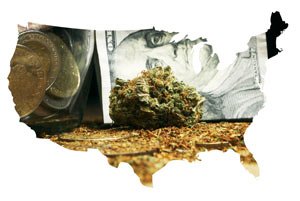 We're not just saying that to be cute.
We've already told you about the industry's genius partnerships with other billion-dollar industries and its role in the fight against opioid dependency.
And last week, Money Morning Director of Technology & Venture Capital Research - and renowned pot stock expert - Michael Robinson shared with you his four high-profit predictions for the industry in 2018.
"Weed investing's only gotten bigger, better, and more profitable," says Michael.
But if you're still unconvinced, we've found five shocking statistics that show just how lucrative the marijuana industry really is.
Here they are...
The Marijuana Industry Will Employ Half a Million People in Four Years
According to Marijuana Business Daily, there are already between 165,000 and 230,000 Americans working in the cannabis industry. That's more than the amount of dental hygienists and bakers in the entire country.
Over the next four years, we expect that number to jump to 500,000.
In fact, there will be more people selling, growing, modifying, and running experiments with marijuana than there will be telemarketers or even pharmacists by 2021.
With four new adult-use states and six newly approved medical programs introduced just in the last year, the industry (and its employees) will surely see a huge boon.
Public Support for Marijuana Legalization Is at an All-Time High
A recent CBS News poll shows support for marijuana legalization is at a record high.
According to the poll, 61% of Americans support legal marijuana use, compared with 56% last year. 81% favor medical marijuana use. This sentiment has increased each year CBS News has measured it since 2013, with the turning point to majority support coming in 2014. Back in 1979, this same poll found just 27% said it should be legal.
Don't Miss Out: For marijuana industry updates in real time, sign up for Profit Alerts here.
The poll results also brought bad news for U.S. Attorney General Jeff Sessions, a longtime, staunch opponent of marijuana who has advocated for stronger legal punishments against marijuana businesses - even in states that have approved it...
71% of those surveyed oppose the federal government's efforts to stop marijuana sales and its use in states that have legalized it. In fact, even among those surveyed who think marijuana should be illegal, only half think the federal government should get involved.
Legal Pot Tax Revenue Is Supporting States
The marijuana industry is far too entrenched to turn back now.
States that have passed legalization measures are growing dependent on the budding industry - and for good reason.
States that have implemented legal pot sales have seen the incredible value of marijuana through the tax revenue created, which is then used to fund previously destitute infrastructure and education programs.
For example, Colorado was able to put $16 million toward Affordable Housing Grants and Loans in 2016 from cannabis tax collections.
It's hard to imagine any state government wanting to part with all that much-needed cash.
"The discovered revenue from regulated legal cannabis markets can be a lifesaver to local law enforcement, substance abuse counseling, and other social services," said Leslie Bocskor of Electrum Partners, which provides advisory and consulting services specializing in the legal cannabis industry, to Forbes.
The reliance of local governments on marijuana businesses is a game changer. State governments will fight tooth and nail to protect these "lifesavers" because without them, they may not have the means to fund infrastructure, schools, and other public programs that are always going to need extra capital.
29 States Have Legalized... and Counting
2016 was a whirlwind year for marijuana. Last year, Ohio, Florida, North Dakota, Arkansas, and Pennsylvania legalized medical marijuana, Illinois decriminalized it, and California, Nevada, Maine, and Massachusetts legalized recreational marijuana.
Special Report: Cannabis Is the Gold Rush of the 21st Century - 30 Stocks to Invest in Now. Details Here...
After the vote, almost a quarter of U.S. citizens now live in states where recreational marijuana use is legal.
And there will be six more states legalizing marijuana in 2017, if predictions are correct. Delaware, Rhode Island, New Jersey, Virginia, Kentucky, and New Mexico are all expected to pass legalization measures within the coming months. That would bring the total number of states with legal marijuana to a whopping 35.
And as more states legalize, the profit opportunities for them (and investors) are only getting larger.
The Marijuana Industry Is Projected to Top $22 Billion
Legal pot sales rose a stunning 34% in 2016 to $6.7 billion across North America, according to Arcview Market Research. What's more, that figure should surpass $8 billion by 2018 and reach $22.6 billion by 2021.
That works out to a 27.5% yearly growth rate.
And Arcview Market Research CEO Troy Dayton, with whom Michael recently met, says a compound growth rate of more than 20% a year will continue "for many years past 2021 as more states and countries legalize cannabis."
This means marijuana investing will be profitable for investors year after year.
We've already seen how impressive the gains can be. This time last year, Michael released his "weed investor's bible," The Roadmap to Marijuana Millions. At the time, it was packed with 30 of his absolute favorite - and most profitable - plays in the still-booming legal cannabis sector.
Money Morning Members who received a copy of Roadmap saw 10 double-digit winners and eight triple-digit winners... 291% gains... 193.3%... 185.5%; one recommendation even saw peak gains of 1,588%.
And in addition to the five impressive stats we just showed you, Michael's looking at four key events on the horizon that could lead to even more profits for investors:
California's upcoming legal marijuana declaration
Canada's total legalization of marijuana
Increase of cannabis-based treatments from top pharmaceutical companies
Major convergence of cryptocurrencies and legal cannabis
"These four watershed events in marijuana investing will happen over the next 365 days," Michael told readers on Sept. 14. "I'm sharing these predictions with everyone for the same reason I've shared some of my best weed investing recommendations: The profit potential is enormous."
Michael wants to make sure Money Morning Members know how to get the latest recommendations and research in his updated Roadmap to Marijuana Millions. He's expecting 2018's profits to top this year's biggest gains, so it'll be released shortly. Click here to learn how to get your copy now.
Follow Money Morning on Twitter @moneymorning, Facebook, and LinkedIn.