Money Morning Director of Technology & Venture Capital Research Michael Robinson has spotted two stocks to watch that are on their way to 100% gains since he first recommended them, and we had to make sure you got in on these profit opportunities now.
Wall Street is overlooking both stocks. The first is considered "boring," and the second is being overlooked despite its 13 quarters of stable sales growth.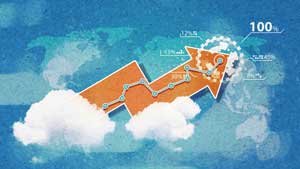 But we don't care about what Wall Street thinks. Its loss is our readers' gain. In fact, readers who took Robinson's advice when he first recommended these stocks are already up 32.89% and 23.14%, respectively. And that's just the start for the gains of these two stocks.
As former Wells Fargo & Co. (NYSE: WFC) CEO Carl Reichardt once told Robinson, "if plain vanilla means making a lot of money, then color me plain vanilla."
Before we get to the two stocks to watch now, here's more on Robinson's market-smashing track record...
Who Is Financial Guru Michael Robinson?
Michael is one of our most prominent and respected investing "gurus" here at Money Map Press - and for good reason. He is one of the top financial analysts working today. Make no mistake: Michael's ideas are completely his own. He's a true original. He works solely for Money Map Press... and receives absolutely no compensation from companies he writes about.
Look for the X: This mysterious "X" pattern predicts which stocks are going up - with 100% certainty. Some have gained as much as 225% in 15 days and 264% in less than a month. Learn more...
His book, "Overdrawn: The Bailout of American Savings," was a prescient look at the anatomy of the nation's S&L crisis long before the word "bailout" became part of our daily lexicon. He's a Pulitzer Prize-nominated writer and reporter, lauded by the Columbia Journalism Review for his aggressive style.
Michael's 30-year track record as a leading tech analyst has garnered him rave reviews, too.
As editor of the financial newsletter American Wealth Underground, Michael amassed an amazing track record using rigorous investing. The first analyst to uncover the rare earth mineral crisis, he amassed cumulative gains of 990% for his readers in just 16 months.
His research is world class, too. The Oakland Tribune, Detroit News, The San Francisco Examiner, The Kansas City Times, Wealth Magazine, and American Banker all publish his reporting. He has appeared on Larry King's syndicated radio show.
Robinson has an honors economics degree from the University of Missouri at Columbia with a minor in journalism.
Now, as promised, here are your next two profit opportunities...
Two Stocks to Watch Now for Double-Digit Profits