China has stepped up as a world leader in alternative energy, and the country is providing investors with some of the best solar stocks to buy now...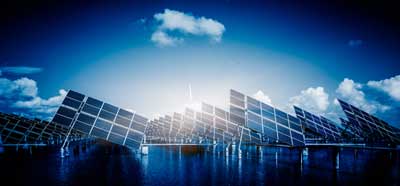 In fact, Wood Mackenzie, a global energy consultancy, forecasts China's solar production will skyrocket an eye-popping 700% by 2035.
And that prediction could be too conservative...
Here's why China is the place to invest in solar and the one stock you need to own to profit from China's explosive solar industry...
China Is the World Leader in Solar Energy
China is already the world's leading solar energy producer, but it's not surprising when you see how dramatically the solar industry is growing there.
Last year, China made a commitment to produce 105 gigawatts of solar energy by 2020. That meant China needed to triple its solar production annually for each of the five years between 2016 and 2020.
The World's First "Universal Fuel": Physicists have known about an unlimited source of free fuel for over 100 years. And the cost of this fuel is zero. Click here to read more...
But China just smashed that goal by producing 112 gigawatts this year. The growth was so dramatic that China added twice as much solar energy capacity than any other nation in the past year.
China's solar explosion didn't happen by accident...
The Chinese government has aggressively pursued an expansive solar power industry. The world's largest solar farm was just built in China this year. It's a sprawling, 12-square-mile farm, roughly the size of Macau. On top of that, China built the largest floating solar farm in the world, too. Combined, these solar operations can power 215,000 homes.
And China is adding another $360 billion in spending on its solar industry by 2020...
Why China's Solar Industry Is Heading for New Heights
China is pushing to grow its solar capacity because the country needs more energy. Between solar energy's falling costs and pollution-free output, there's no better alternative to meet China's growing energy demand.
China uses more electricity than any other country in the world at 4.9 trillion kWh per year. This is 50% more than the United States' consumption of 3.9 trillion kWh annually.
Video
Urban Farming Is the Next Solar Energy Profit Opportunity
Because China is such an energy hog, the country is also producing record levels of carbon. In 2015 alone, China was responsible for emitting nearly 30% of the world's total carbon output. Not only does China hope to curtail the effects of climate change, but the pollution also causes health issues for some of the country's citizens in major cities.
But solar energy emits no carbon, and it is also now potentially cheaper than coal.
The sun's energy is unlimited, free, and clean; it's just a matter of perfecting the technology needed to harness the sun's power and convert it to electricity. And the cost of doing that is continually dropping.
Top Story: Why 2017 Is the Year for Investing in Renewables
Today, solar energy costs are just 1/150th of what they were four decades ago, and the costs have even dropped 10% in the past year. Of note, Money Morning Global Energy Strategist Dr. Kent Moors reports that solar energy has accomplished grid parity in several parts of the world. That means solar energy is just as cheap as coal and natural gas in some places, like California or New York in the United States.
That also means China's solar growth potential is staggering.
Solar currently makes up just 5% of China's total energy output, while coal makes up 59%. But just five years ago, solar made up less than 1% of China's output, and coal made up 66%. As solar power takes over for coal in China, its growth potential is enormous.
Wood Mackenzie predicts that solar generation alone in China will grow 700% by 2035. China will hit that target if solar makes up even half of coal's output.
But China's massive solar expansion is a profit windfall for investors who know where to look. In fact, the global solar industry is sitting on a $48 trillion goldmine right now.
And we have the one China solar stock to buy right now to capitalize on this once-in-a-lifetime opportunity...
The Best Solar Stock to Own Right Now