(Kitco News) - World stock markets were mostly firmer overnight. U.S. stock indexes are pointed toward firmer openings when the New York day session begins.
The war of words between the U.S. and North Korea flared up again over the weekend. After the U.S. Secretary of State Rex Tillerson suggested there is some dialogue taking place with North Korea regarding its nuclear missiles, President Trump then tweeted "save your energy Rex." So far, the world markets are not reacting strongly to the weekend developments on the geopolitical front.
As the month of October begins, the month of September turned out to be one of the least volatile months for the U.S. stock market in over 65 years.
Gold prices are lower and hit a six-week low overnight, once again pressured by an appreciating U.S. dollar on the foreign exchange market and little risk aversion in the marketplace at this time. Silver prices are slightly lower and hit a seven-week low overnight.
A shooting spree in Las Vegas late Sunday that left over 50 people dead and over 200 wounded is not believed to be a terrorist attack.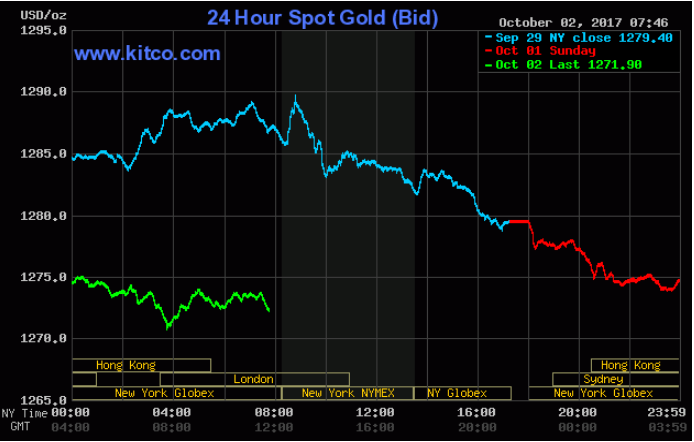 In other overnight news, the Spanish referendum on Catalonia splitting from Spain passed easily. This put some more downside pressure on the Euro currency.
The Euro zone September manufacturing purchasing managers index (PMI) was out overnight and came in at 58.1 versus the August reading of 57.4. A number of 58.2 was forecast. A PMI above 50.0 suggests growth in the sector.
The U.S. dollar index is solidly higher in early U.S trading Monday.
Greenback bulls have momentum. A bullish head-and-shoulders bottom reversal pattern has formed on the daily bar chart for the USDX, which is a technical clue that a market bottom is in place.
The other key outside market on Monday morning sees Nymex crude oil futures lower. Prices last week hit a five-month high. While the oil bulls still have the overall near-term technical advantage, there are stiff chart resistance layers just above present price levels.
U.S. economic data due for release Monday includes the U.S. manufacturing PMI, construction spending, the ISM report on business, and the global manufacturing PMI.
By Jim Wyckoff, contributing to Kitco News; jwyckoff@kitco.com
Follow Jim Wyckoff @jimwyckoff for breaking news.