The big silver price news that's dragged the metal lower over the last month is the dollar's rebound. After hitting a 32-month low of 91.35 on Sept. 8, the U.S. Dollar Index (DXY) – an index measuring the dollar against currencies like the yen and euro – has since recovered 2.4% to 93.54.
Since silver is priced in the dollar, any rally in the currency lowers demand from users of different currencies, which is bearish for silver prices. This is what pulled silver prices down 1.8% last week (Friday, Sept. 22, to Friday, Sept. 29) and 5.1% lower in September.
Investors saw a brief relief last Monday, Sept. 25, when the price of silver bumped back above $17. However, this was short-lived as silver quickly retreated below that level, where it has remained since.
I predicted we'd continue to see short-term weakness in silver, based on my expectation that the dollar had not finished its dead cat bounce. That's when a long-declining asset – like the dollar, which is down 9.2% this year – briefly rebounds before falling again.
The DXY is continuing its bounce and weighing on the silver price. I expect this scenario to play out for a while longer since I don't think the dollar's finished rebounding.
But I'm still bullish on silver in the medium and long terms, and silver investors who remain patient at this juncture will likely be rewarded before 2017 ends.
Before I show you just how big I expect silver's rebound to be before 2018, here's a closer look at the metal's 1.8% drop last week…
How the DXY's 1% Gain Dominated Silver Price News Last Week
After closing at $16.98 on Friday, Sept. 22, the price of silver rallied above $17 on Monday, Sept. 25, despite a similar gain in the dollar. The DXY climbed 0.5% to 92.65, while silver climbed 1% to $17.15 by the end of the session.
Silver prices spent Tuesday retreating back below $17. With the dollar reaching a midday high of 93.25, silver was destined to back off. It opened at $16.97 and headed nearly straight south for the day to close at $16.88 for a 1.6% loss.
Here's a look at the DXY's moves last week…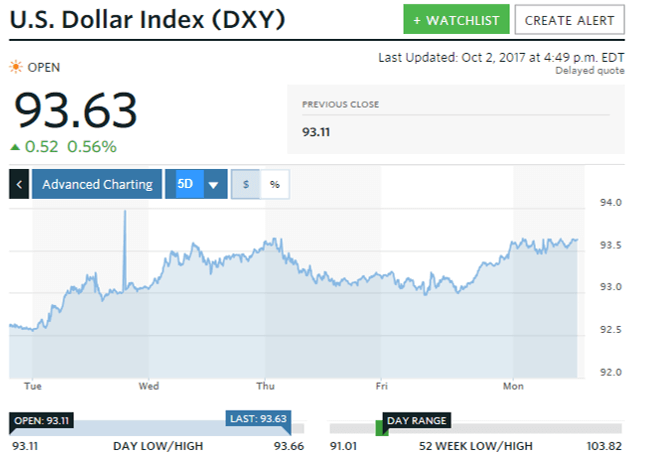 While Wednesday's action was a lot more muted, the silver price continued its downward trend. The dollar kept strengthening, with the DXY moving from just above 93 early on to nearly 93.5 by the end of the day. As a result, the metal fell 0.3% to settle at $16.83.
On Thursday, Sept. 28, silver prices took advantage of a small pullback in the dollar to post a small gain. They opened lower at $16.77 but moved higher throughout the day to close at $16.85 for a 0.1% rise.
But the price of silver fell yet again on Friday to close the week – and the month – on a bearish note. That day, silver declined 1% to settle at $16.68. That was the lowest level since Aug. 15. This settlement marked a 1.8% drop for the week and a 5.1% drop for September.
Urgent: Executive Editor Bill Patalon just saw something on his precious metals charts he's only seen twice in 20 years. He calls it the "Halley's Comet of investing" – and it could lead to windfall profits. Read more…
Yesterday's start to October trading didn't mark any reversal in the silver price. It opened lower at $16.66 and traded near that price for the rest of the session while the DXY steadied above 93.50. Silver ended the day at $16.65 for a small 0.2% loss.
The price of silver today (Tuesday, Oct. 3) is down as the dollar continues to hover above 93.50. Silver is down 0.1% and trading at $16.63.
With all of the recent volatility, there are a lot of questions about silver prices during the final quarter of 2017. My sense is this bout of weakness will persist a little while longer, and the main culprit will continue to be the dollar.
But I don't expect this to last all the way through fall. The weakness will eventually give way to a strong silver price rebound, which could persist through the end of the year.
Here's my prediction for silver prices before 2018…
These Are My Bullish Silver Price Targets for the Rest of 2017
Join the conversation. Click here to jump to comments…
About the Author
Peter Krauth is the Resource Specialist for Money Map Press and has contributed some of the most popular and highly regarded investing articles on Money Morning. Peter is headquartered in resource-rich Canada, but he travels around the world to dig up the very best profit opportunity, whether it's in gold, silver, oil, coal, or even potash.