Jeff Sessions just made it completely clear that he's always opposed legalizing marijuana. But the industry is too big for him to stop the profit opportunity from pot stocks…
"I've never felt that we should legalize marijuana," Sessions said in a Sept. 20, 2017, press conference.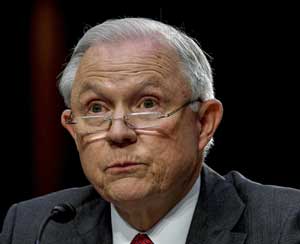 But legal sales in the North American cannabis industry are expected to skyrocket, from $6.7 billion in 2016 to over $20 billion by 2020, whether Sessions likes it or not.
That's why, when he makes comments like these, we look at the bigger picture. Cannabis legalization in the United States is unstoppable, and long-term investors will be handsomely rewarded…
Jeff Sessions Can't Stop the Initiative to Legalize Marijuana
Right now, 58% of states have some form of medical marijuana legalization. By the end of 2018, that could climb to 66%.
In November 2018, Idaho, Utah, Missouri, and South Dakota will have medical marijuana initiatives scheduled for their ballots.
And as more states legalize medical marijuana, recreational cannabis legalization won't be far behind…
In 2016, California, Nevada, Maine, and Massachusetts legalized recreational marijuana. In 2018, Arizona, Florida, Michigan, and Oklahoma will all have recreational initiatives on their ballots, according to Ballotpedia.org.
Video
Marijuana Businesses Are Teaming Up with This Billion-Dollar Company
So while Sessions has always opposed legalizing cannabis, he's just too late to stop full legalization across the country.
Fortunately for our readers, there's still time to get in on massive profit opportunities from legalized cannabis. In fact, some of our readers have already netted gains of 1,000%.
And that's why, after months of research, Money Morning Director of Technology & Venture Capital Research Michael A. Robinson has created the "bible of weed investing" for Money Morning readers.
Here's everything you need to know about your next profit opportunity…
How to Get In on the "Gold Rush" of the 21st Century