The United States is maintaining operational readiness for an all-out war with North Korea, but its presence in Asia is also increasing South China Sea tensions…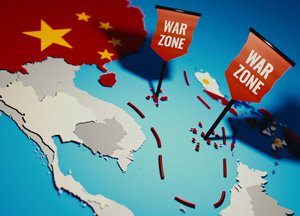 On Sept. 30, 2017, U.S. F-18 Super Hornet jet fighters launched from the U.S.S. Ronald Regan aircraft carrier and conducted routine drills deep in the South China Sea. Even though these were considered "routine drills," two Chinese frigates (warships) maintained a constant line of sight on the jet fighters, according to Reuters.
As officers on the U.S.S. Ronald Regan told Reuters, these close encounters are more common than the public may realize, and the potential for military conflict is rising too…
South China Sea Tensions Increase with Chinese Surveillance
According to the officers, there has been "frequent close-quarter surveillance from the ships of the People's Liberation Army Navy in international waters."
There are times when Chinese vessels will check on the activity of the Reagan when they are on route to other destinations.
But other times, Chinese frigates will linger for days, and the United States has to accommodate the uninvited surveillance crew.
The crew on the Reagan will actually alert the Chinese ships to let them know when they are altering course. U.S. Rear Admiral Marc Calton told Reuters that the Chinese have been very professional, but he did say the crew members of the Reagan see them on a regular basis.
However, constant vigilance isn't China's only strategy to control the disputed territory.
Must See: The South China Sea is about to get violent. But thanks to a small $6 U.S. defense firm with a top-secret new technology, China is about to be taken to the woodshed. Read more…
Under the guise of "peace," China has a plan to completely remove the United States from the South China Sea…
How China Plans to Remove the United States from the South China Sea