(Kitco News) – World stock markets were mixed in quieter overnight trading.  U.S. stock indexes are also pointed narrowly mixed openings when the New York day session begins. The U.S. stock indexes are at or near record highs, to underscore the lack of risk aversion in the marketplace at this time. Also, the VIX (volatility index) has fallen to an all-time low. Other major world stock indexes are also on big bull runs.
Gold prices are weaker in pre-U.S.-day-session trading. Near-term price downtrends remain in place for the gold and silver markets and bears have the chart advantage in both. The bull market in equities has funneled money away from the safe-haven gold market.
Traders and investors are awaiting Friday morning's U.S. employment report for September from the Labor Department. The key non-farm payrolls number is expected to come in at up only 80,000, according to a Dow Jones Newswires survey. The unusually low non-farm jobs growth estimate is due to two major hurricanes that hit the U.S. mainland in September. A big miss on the non-farm jobs number, from the forecast, may not rattle the markets too much, due to the uncertain impact of the major hurricanes.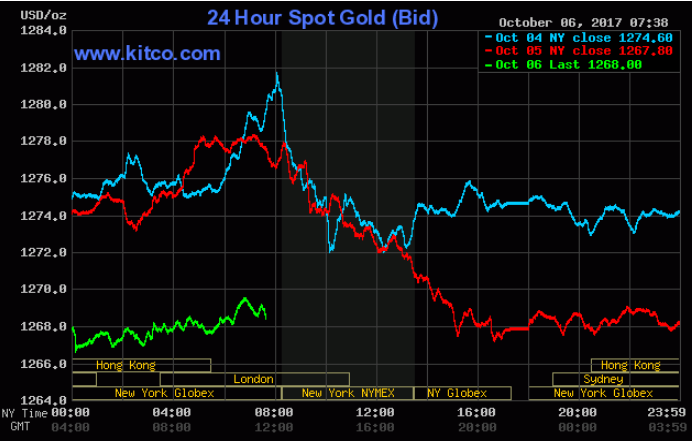 There is growing speculation on who President Trump will appoint as the next chair of the Federal Reserve. There is no clear-cut consensus on who will be Trump's pick.
The U.S. dollar index is slightly higher in early U.S. trading. The greenback bulls have been working the dollar index sideways to higher for the past few weeks. Meantime, the Euro currency has been suffering during that same time.
The other key outside market on Friday morning sees  Nymex crude oil futures prices weaker. Oil gains have been capped this week by notions of rising U.S. crude oil production that is approaching 10 million barrels a day.
Other U.S. economic data due for release Friday includes the monthly wholesale trade report and the consumer credit report.
By Jim Wyckoff, contributing to Kitco News; jwyckoff@kitco.com
Follow Jim Wyckoff @jimwyckoff for breaking news.