Investors might believe they can only buy shares of risky pot stocks, but our marijuana stock expert says that's not always the case…
In fact, Money Morning Director of Technology & Venture Capital Research – and pot stock expert – Michael Robinson has a pot stock pick that has a $5.8 billion market cap.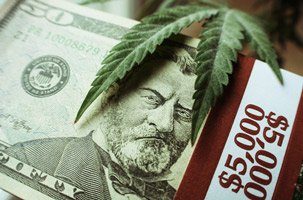 This company we are about to mention also trades on the New York Stock Exchange (NYSE), pays a dividend of $0.53 per share, and 67% of analysts covering it give it a "buy" or "overweight" rating.
Now, most investors wouldn't consider this a traditional pot stock.
However, this is what Robinson calls a "pick-and-shovel" play on the cannabis industry. Instead of investing in a company that sells marijuana, investors buy shares of a company that provides products or services to the cannabis industry. That's because the people making money during the famed California Gold Rush weren't the miners, they were the people selling them picks and shovels.
And Robinson likes this "safe" cannabis stock so much because it's becoming a go-to equipment choice for marijuana growers…
Our Marijuana Expert Just Found Your Next Pot Stock Profit Play
Growing marijuana plants is a labor-intensive project that requires high-tech equipment to grow the best products.
"To protect their investment, growers turn to state-of-the-art greenhouses containing high-tech devices and monitors," Robinson said on Sept. 25, 2017. These devices include hygrometers, CO2 tanks, high-powered horticultural lightbulbs, custom fans, valves, pumps, and nutrients.
Video
Marijuana Businesses Are Teaming Up with This Billion-Dollar Company
But outside of mass-scale pot farms, demand for equipment from cannabis-growing hobbyists will also increase.
California voted to legalize recreational marijuana in November 2016. As part of legalization, California residents 21 years or older can grow up to six marijuana plants in a private home as long as the plants are grown in a locked area not visible to the public.
Now, it's true marijuana is still illegal under federal law. But what makes this investment one of the "safest" investments in the marijuana industry is that the company we are about to mention will still be in business no matter what happens with cannabis laws.
It's operated since 1868, and it's one of the world's largest companies in its sector. It just happens to be branching into the explosive marijuana industry. This has already turned into a $250 million business for them.
With over 29 states legalizing medical marijuana, cannabis legalization has come too far to stop. Legal marijuana sales in North America are expected to skyrocket from $6.7 billion in 2016 to over $20 billion by 2020.
That's an increase of 198% in just four years.
NEW: Plot your course to a seven-figure weed windfall with the top pot stocks from every ecosystem – growers, edibles, dispensaries, and more. Read more…
That's why, before the industry really takes off, we had to make sure you got in early on the "safest" marijuana stock to own right now…
This Is the "Safest" Way to Invest in Marijuana Stocks