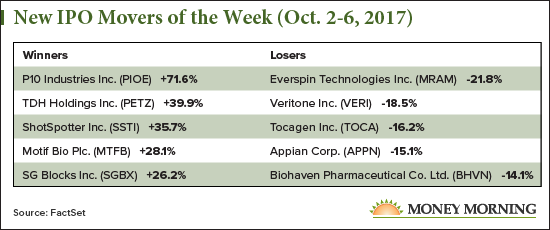 Our latest list of new IPO* movers of the week features a couple of rising stars that may have flown too close to the sun and are now on the downturn. But first, last week's winners...
P10 Industries Inc. (OTCMKTS: PIOE) makes another appearance on the movers list with a 71.6% gain. That's impressive until you consider that shares closed the week at $0.68. With such a low share price, plus low trading volume, major swings like this are almost inevitable for the Texas-based power supply manufacturer. P10 gained 140.9% during the week of June 19-23. When it dropped 20% in a week later in the summer, we said it could be prone to extreme volatility. That warning still stands.
TDH Holdings Inc. (Nasdaq: PETZ) jumped 39.9% for the week. The Chinese pet food supplier went public on Sept. 21, at $4.25 per share, and has soared since then. PETZ shares closed the week at $23.50. As always, we recommend caution with new IPO stocks, as these big early gains are frequently followed by even bigger crashes.
BREAKING: New Legislation Could Turn Tiny Pot Stocks into Millions. Click Here...
Everspin Technologies Inc. (Nasdaq: MRAM) dropped 21.8% without significant news. The stock had been soaring for much of 2017, rising from less than $8 in March to more than $25 in July. After a downturn that lasted until mid-August, it appeared to be stabilizing until the last week of September, when it began to plunge again. A May 20 article by Barron's highlighted the Arizona-based company's disruptive potential in the memory chip industry, but apparently investors have not settled on an appropriate value for the stock yet. Shares closed the week at $13.37.
Veritone Inc. (Nasdaq: VERI) recorded some huge gains in August and September. But last week, it gave back a small piece of those gains, dropping 18.5%. An Aug. 18 feature by Barron's sent the stock soaring - it's still up 370% since then. On Sept. 27, Andrew Left of Citron Research called VERI overvalued. The CEO countered by saying the stock was still cheap. And analysts Roth Capital Partners joined in the back-and-forth saying that Veritone could be worth $1 billion - nearly twice its current market cap. VERI could be in for some volatility while these arguments play out. Shares closed the week at $37.03.
*Stocks are listed on a U.S. exchange with an initial public offering in the last year. Data and analytics provided by FactSet.
Up Next: One gallon of this new "crystal fuel" could get you from New York to L.A. and back... seven times! Being hailed by many experts as energy's "Holy Grail," it's 1,693 times more powerful than the gasoline that runs your car. The mainstream investment media isn't even talking about it yet. Read more...
Follow Money Morning on Facebook, Twitter, and LinkedIn.
Join the conversation. Click here to jump to comments…
About the Author
Stephen Mack has been writing about economics and finance since 2011. He contributed material for the best-selling books Aftershock and The Aftershock Investor. He lives in Baltimore, Maryland.