These 10 penny stocks under $1 have already rallied as much as 1,033% this October, even though we're only through the first trading week of the month. Today, we've ranked these top penny stocks by total return month to date.
But if you're looking for a stock with a potential rally ahead of it, we'll also show you one of the best small-cap stocks to buy for 2018. It's one of the top providers of mobile encryption services, putting it at the center of the mobile transaction market's 716% growth over the next four years...
| | | |
| --- | --- | --- |
| Top Penny Stock | Current Share Price | October 2017 Return (as of Oct. 9) |
| Yulong Eco-Materials Ltd. (Nasdaq: YECO) | $0.68 | +1,033% |
| Repros Therapeutics Inc. (Nasdaq: RPRX) | $0.67 | +109.3% |
| Cytori Therapeutics Inc. (Nasdaq: CYTX) | $0.56 | +50% |
| Tenax Therapeutics Inc. (Nasdaq: TENX) | $0.49 | +36.3% |
| Capstone Turbine Corp. (Nasdaq: CPST) | $0.93 | +33.3% |
| Senomyx Inc. (Nasdaq: SNMX) | $0.77 | +27.1% |
| TrovaGene Inc. (Nasdaq: TROV) | $0.87 | +20% |
| Galena Biopharma Inc. (Nasdaq: GALE) | $0.42 | +18.1% |
| One Horizon Group Inc. (Nasdaq: OHGI) | $0.95 | +16.9% |
| U.S. Energy Corp. (Nasdaq: USEG) | $0.89 | +15.6% |
The top penny stock gainer of the month so far is Yulong Eco-Materials Ltd., a construction materials company that makes environmentally friendly building products. The YECO stock price surged 340% from Oct. 3 to Oct. 5 alone after the Nasdaq overturned a decision to permanently delist the stock from the index.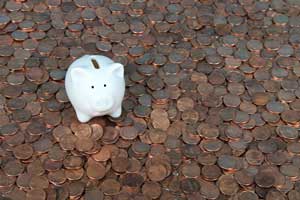 On July 7, the Nasdaq Listing Council delisted YECO stock after the company failed to file three different financial reports. Yulong didn't submit its annual 10-K form for the year ended June 30, 2016, and its quarterly reports for Q3 and Q4 2016. The council delisted the stock because it lacked confidence that Yulong would submit those three filings before the Aug. 31 deadline.
But Yulong appealed the Nasdaq's decision, which the firm considered too hasty since the stock was delisted well before the Aug. 31 deadline. After submitting those filings by Aug. 31, the Nasdaq announced it would relist shares of YECO for trading on Oct. 3. Investors embraced the stock's return to the index, pushing it up 1,033% from the $0.06 non-listed price to $0.68 today (Monday, Oct. 9).
However, Yulong may be delisted yet again if it doesn't stay above the Nasdaq's minimum share-price requirement of $1 per share. It trades at $0.68 per share today, meaning the firm could receive a non-compliance notice within the next week.
If that happens, the stock could be delisted and go back to trading via an unregulated, decentralized dealer network. That would make the stock less liquid, since it would only trade between investors directly rather than on a major exchange like the Nasdaq. Less liquidity makes it more difficult for investors to sell shares of their stock, which is part of the reason the share prices plummeted.
Pot Profits: Forget Jeff Sessions! These Five Canadian Pot Stocks Are Set to Skyrocket. Click Here...
Even if Yulong wasn't on the verge of being delisted, we wouldn't recommend buying YECO or any penny stock on the list. Just because they're up in October doesn't mean they're going to head even higher. You may not make much of a profit if you buy in right now.
Instead, Money Morning Small-Cap Specialist Sid Riggs is giving you one of the best small-cap stocks to invest in for 2018.
Sid is known for consistently handing our readers double- and even triple-digit winners. On Dec. 20, 2013, he recommended late-stage biotech Neurocrine Biosciences Inc. (Nasdaq: NBIX). Since then, shares of this company have rocketed 574.9%.
Today's recommendation is a profit play on the exploding mobile banking transactions market. The value of this market is expected to grow by 716% through 2021. Even better news for this company are revenue projections - total revenue for the tech firms that make these transactions happen could grow to $865 billion by that year.
Here's one of the best small-cap stocks to buy before 2018...
Buy This Small-Cap Stock to Profit from Mobile Banking's Growth in 2018
[mmpazkzone name="in-story" network="9794" site="307044" id="137008" type="4"]
VASCO Data Security International Inc. (Nasdaq: VDSI) is the best way to profit from the rise in mobile banking transactions.
VASCO provides encryption services for companies that offer or use digital and mobile banking. Its most popular services include electronic signatures and mobile app security. The company's 10,000-plus customers include healthcare companies, government agencies, and multinational banks, including BCR, which is Romania's largest bank by clientele.
Sid likes VASCO's main product, DIGIPASS for Apps, which rolled out behavioral, fingerprint, and face authentication in May 2016. By recognizing a person's distinct physical features, DIGIPASS ensures only the intended user can access the banking data. In the past, a hacker could guess a user's password or trick them into divulging it.
This has singled out DIGIPASS as one of the best personal cybersecurity products out there, even earning a 2017 Global Excellence Award from leading security publication Info Security Products Guide.
The growth of mobile banking will let the company expand its customer base and rake in more profits. Analyst data compiled by Yahoo Finance shows that VASCO's yearly revenue could rise from an expected $185.7 million in 2017 to $192 million in 2018.
This will likely lead to a rebound in the VDSI stock price. Shares are down 7.3% this year to $12.65, as revenue has dipped 8.2% from Q1 to Q2. But we think that makes now a great time to buy at a discount before they climb back up in 2018.
Stocks like VASCO are a great way to profit from both mobile banking's growth and the rise in cyberattacks. Money Morning Chief Investment Strategist Keith Fitz-Gerald has been researching even more aggressive income potential, too. He's found a special class of investments he calls "26(f) programs," which give investors the opportunity to tap into huge monthly income - $2,000... $5,000... or more - every month for the rest of their lives. Click here to learn how it works...
Follow Money Morning on Twitter @moneymorning, Facebook, and LinkedIn.