We're in the last quarter of 2017 with the Dow sitting near its all-time high. That has some investors wondering if there will be a stock market crash in 2018.
The Dow just hit its highest close ever at 22,775.39 on Thursday, Oct. 5, its fourth day in a row of a record-high close. And this isn't anything new. The Dow is up nearly 25% since a year ago, and it's up 220% since March 2009. In fact, this is the second-longest-running bull market ever.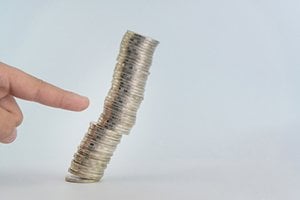 While the gains have been great for investors with exposure to stocks, it's also making people wonder when it will end – and, especially, if it will end with a 2018 market crash.
Now, no one can forecast the timing of either corrections or the next stock market crash with any accuracy. We certainly aren't predicting a stock market crash, either.
But you should never rule out a crash, and we want our readers to be as prepared as possible for any market event.
Here are the stock market crash warning signs we're seeing and how you can protect your money in case one happens…
The Market Crash Warning Signs to Look Out For in 2018
There are three signs we're following that could lead to a market crash in 2018.
First, analysts are saying that we might be seeing too much of a good thing.
Back in August, analysts from JPMorgan told Business Insider that historically low volatility was a sign of a potential market downturn coming.
In short, when volatility is at historically low levels, it has nowhere else to go but up. Coupled with soaring stocks, higher volatility could mean a stock market correction or even a crash.
The CBOE Volatility Index is even lower now than it was in August.
We don't necessarily subscribe to this theory, but it's one of several reasons not to be complacent with today's soaring stock market.
Urgent: Feds use obscure loophole to threaten retirees. If you have a 401(k), IRA, or any type of retirement account, this could cause you to miss out on $68,870 or more. Learn more…
Second, the U.S. Federal Reserve is raising interest rates.
In 2008, the Fed slashed interest rates to a historically low 0.25% level. The goal was to give the sagging U.S. economy a lift by making it relatively cheap to borrow funds.
The economic theory is that cheap money makes it possible for businesses to grow, invest in new equipment, and hire people. Enough of that, and businesses will lift the economy up.
But while the economy eventually did climb out of the Great Recession, many businesses used the inexpensive money to purchase their own stock.
In the seven years from 2009 to 2016, public firms borrowed almost $2 trillion. Roughly $2.1 trillion was spent during the period on stock buybacks.
That sort of money helped fuel the bullish stock market. But the Fed has already raised rates four times since 2015, and it is expected to hike rates another three times in 2018 alone. If that happens, rates could rise above 2% for the first time since 2007.
That will mean less money to fuel stocks as rates rise.
Third, stock valuations are at historically high levels.
You see, the Shiller price/earnings (PE) ratio, one of the best measures of stock market valuation, indicates that current valuations are historically high.
The Shiller P/E ratio stands at 30.33. That figure is 82% above the Shiller PE ratio's historical average. In fact, before the 2008 stock market crash, it hit a high of 27.4 in 2007. And the only other times the Shiller PE ratio has reached the current heights were in 1929 and 2000. The market crashed both times.
For prepared investors, we have the two best stocks to buy ahead of any downturn. These are resilient stocks that have outperformed the market in past crashes, and the best part is, they are still going to soar if the market keeps growing…
How to Prepare for a Stock Market Crash in 2018