(Kitco News) – World stock markets were mixed in overnight trading. Asian stock indexes were mostly firmer and European stock indexes were mostly weaker. U.S. stock indexes are pointed toward firmer openings when the New York day session begins. The U.S. stock indexes are at or near record highs.
Gold prices are higher and once again closing in on the psychologically important $1,300.00 level. Safe-haven demand and short covering are featured in gold and silver markets early this week.
In overnight news, geopolitical worries were ratcheted up a notch on reports U.S. President Donald Trump will stop at the North Korea-South Korea demilitarized zone to deliver a strong anti-North Korea speech, during his Asia trip next week. Also, U.S. Defense Secretary James Mattis reportedly told his Army officers to be ready, in case U.S.-North Korea negotiations fail.
The European Union is worried and its stock markets are shaky regarding Catalonia possibly seceding from Spain. The Catalan regional president is scheduled to give a speech Tuesday, in which he may announce his intention to separate Catalonia from Spain.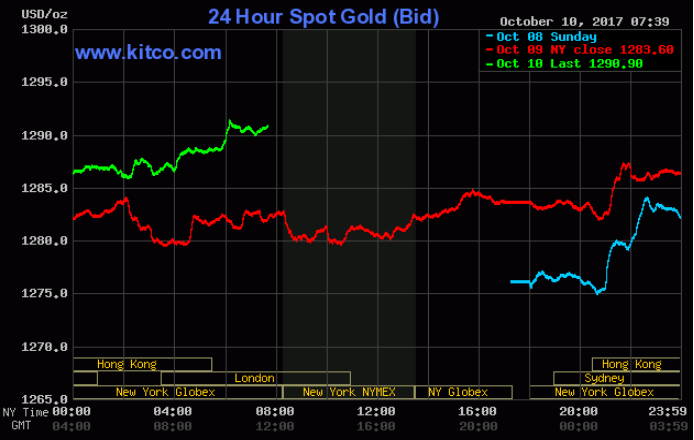 The U.S. dollar index is lower again in early U.S. trading, on a corrective pullback from recent gains. The other key outside market on Tuesday morning sees Nymex crude oil futures prices higher and just above the key $50.00 level. Reports said Saudi Arabia plans to cut its crude oil exports in November.
Traders and investors are looking ahead to what is arguably the most important U.S. data point of the week: Wednesday afternoon's minutes from the latest FOMC meeting. Most of the marketplace now expects the Federal Reserve to raise interest rates by 0.25% at the December FOMC meeting.
U.S. economic data due for release Tuesday includes the weekly Johnson Redbook and Goldman Sachs retail sales reports, the NFIB small business index, and the IBD/TIPP economic optimism index.