Eager investors have been waiting for a Lyft IPO date announcement, and it looks like the transportation disruptor is taking concrete steps to make a public offering in 2018.
Lyft is close to hiring an IPO advisory firm, according to a Sept. 28, 2017, Reuters report.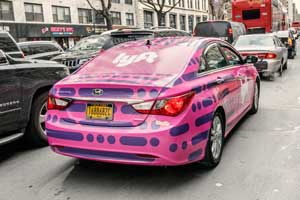 The IPO advisor will select underwriters for the Lyft IPO. The underwriters determine the offering price of a new stock and try to sell the stock to hedge funds and large institutions before the stock is made available to the public.
The underwriter receives a fee for their services, which is usually 3% to 7% of the amount of capital being raised, according to InvestingAnswers.com.
Lyft is finished with the interviews for the advisory firm and will pick one shortly, according to the same Reuters report.
However, the advisory firm may have a hard time finding an underwriter…
Finding an Advisor Before the Lyft IPO Date May Prove Troublesome
Morgan Stanley (NYSE: MS) and Goldman Sachs Group Inc. (NYSE: GS) are go-to underwriters for IPOs. Morgan Stanley was the lead underwriter for 397 IPOs, and Goldman Sachs was the lead underwriter for 1,030 IPOs, according to Nasdaq.com.
However, both banks may not want to work with Lyft…
Video
Who Is Dara Khosrowshahi?
In 2015, Goldman Sachs invested $1.6 billion in Uber. Morgan Stanley invested in Uber but did not provide details on how much or when, according to CrunchBase.com. Morgan Stanley also offers wealthy clients a chance to invest in Uber through a special fund, according to Fortune.
If either Morgan Stanley or Goldman helps Lyft go public, they could risk the opportunity to take Uber public. The new Uber CEO, Dara Khosrowshahi, wants to take his company public between 2019 and 2021, and he may not want to work with a bank that supported its biggest rival.
This Could Make Big Oil Obsolete: One gallon of this new fuel could produce enough energy to power a car for 42,325 miles. It's being hailed by many experts as energy's "Holy Grail." Read more…
Lyft has a $7.5 billion valuation and Uber is valued at $68 billion, so there may be more demand for Uber stock because of its higher valuation.
The underwriter could raise more capital for the Uber IPO and make more from fees.
But we aren't concerned with how much the underwriters will make. We want our readers to know whether their hard-earned money should be used to buy Lyft stock.
Here's what Money Morning Director of Technology & Venture Capital Research Michael Robinson has to say about buying IPOs…
Read This Now Before You Buy Lyft Stock