The markets as reflected by the Dow Jones Industrial Average dipped as much as .15% on Friday to close .03% lower than they did on Thursday's close, giving us the first pullback in something like eight trading days.
Markets pared those miniscule losses in mere minutes yesterday morning to hit - you guessed it - fresh record highs before easing back down at midday.
After such a strong move up, a pause is a normal, healthy market response.
But the important thing is not that we get pullbacks like the one we just had - and the one we'll inevitably get again. Rather, it's the nature of the pullback itself.
Let me give you some charts I made the other day that will show you where we stand...
I Look Forward to Pullbacks Like These
Here's a chart I made on Thursday, Oct. 5, as the cable news pundits were worried about the "end of the rally." It was nothing of the sort, of course.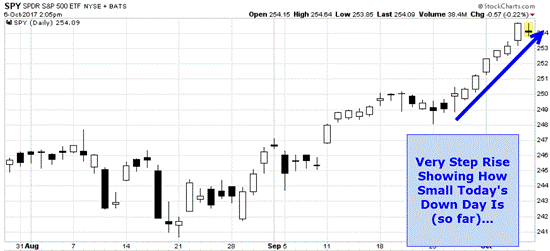 And now, here's a look at what has happened after other similar steep up moves over the last six months - you'll see a pattern immediately: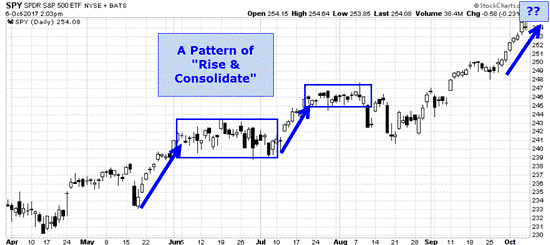 This is a textbook, picture-perfect example of the "grinding bull"-type markets we've had for months now.
Two extraordinary "hooks" set to rocket higher - thousands in gains possible...
And, as I've said numerous times before, I don't expect the grinding bull to fizzle out or change anytime soon. The markets should remain in the current "mode" (a rounded top will be our cue that they've changed), so we can expect future pullbacks to be very modest indeed, and always followed by a sideways consolidation.
But, of course, nothing lasts forever.
Join the conversation. Click here to jump to comments…
About the Author
D.R. Barton, Jr., Technical Trading Specialist for Money Map Press, is a world-renowned authority on technical trading with 25 years of experience. He spent the first part of his career as a chemical engineer with DuPont. During this time, he researched and developed the trading secrets that led to his first successful research service. Thanks to the wealth he was able to create for himself and his followers, D.R. retired early to pursue his passion for investing and showing fellow investors how to build toward financial freedom.