(Kitco News) – World stock markets were mixed overnight.  U.S. stock indexes are pointed toward slightly lower openings when the New York day session begins. U.S. stock indexes are at or near record highs. Japan's Nikkei stock index hit a 21-year high overnight.
Gold prices are slightly lower in pre-U.S.-session trading, on a corrective pullback from good gains scored this week.
While gold has seen some safe-haven demand this week, amid geopolitical tensions that include the U.S.-North Korea stand-off and a region of Spain wanting to secede, the world stock markets are not exhibiting much risk aversion at all.
In overnight news, the German government forecast its economic growth at 2.0% for 2017 and at 1.9% for 2018.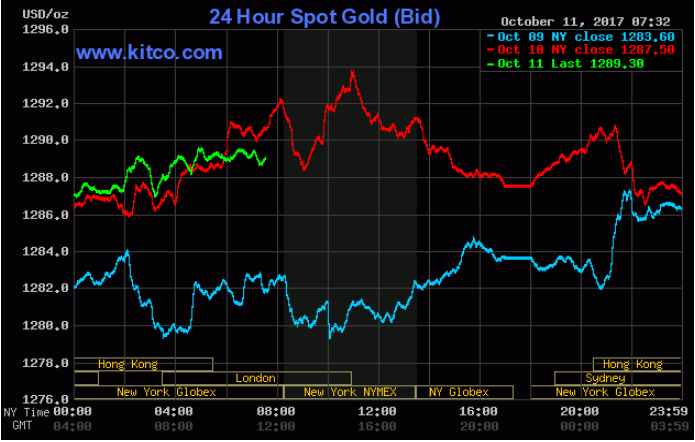 The U.S. dollar index is weaker again in early U.S. trading Wednesday. The greenback continues this week's slide. The other key outside market sees Nymex crude oil futures prices firmer and trading above $51.00 a barrel.
Traders and investors are awaiting what is arguably the most important U.S. data point of this week: Wednesday afternoon's minutes from the latest FOMC meeting. Most of the marketplace now expects the Federal Reserve to raise interest rates by 0.25% at the December FOMC meeting. Any FOMC minutes wording on inflation and the U.S. labor market will be parsed by market watchers.
Other U.S. economic data due for release Wednesday includes the weekly MBA mortgage applications survey.
By Jim Wyckoff, contributing to Kitco News; jwyckoff@kitco.com
Follow Jim Wyckoff @jimwyckoff for breaking news.