If you're looking for the best penny stocks to buy as we head into 2018, we have one simple tip that can help you avoid the dangerous pitfalls associated with investing in penny stocks…
Penny stocks are a popular investment, since they can post triple-digit gains in less than a week. For instance, shares of biotech Daré Bioscience Inc. (Nasdaq: DARE) jumped from $4.44 to $11.30 between June 30 and July 5. That's a 154.5% return in just four trading sessions.
But making money from penny stocks isn't always that easy. Sometimes, investing in these companies can be risky if you don't do the proper amount of research. That's the only way to determine if a company is potentially fraudulent or running a scam.
Cynk Technology Corp. (OTCMKTS: CYNK) is a recent example of a pump-and-dump scam. This is when a company's execs drive up the firm's stock price then sell their shares at the inflated price.
From June to July 2014, the CYNK stock price exploded 24,900%, going from $0.06 to $15 per share. These insane returns caught the eye of the U.S. Securities and Exchange Commission (SEC), which quickly identified some problems with the company…
The SEC found that Cynk – which brands itself as a social media company – was actually a shell company with no revenue or assets. The agency found it to be a pump-and-dump scheme led by stock promoter Gregg Mullholland. This past February, he was sentenced to up to 12 years in jail for his role in the scheme.
Despite this scandal, there are still plenty of legitimate penny stocks that are healthy for your portfolio.
Here's one of the easiest ways for you to quickly identify these safe companies…
Sign up for SMS so you never miss special events, exclusive offers, and weekly bonus trades.
1 Way to Find the Best Penny Stocks to Buy Right Now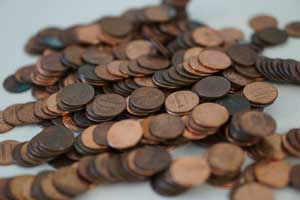 When you're looking to invest in penny stocks, one of the most important things you can do is dig into the firm's latest 10-K report.
The 10-K is an annual report that gives a complete breakdown of a company's business operations. It outlines everything from annual earnings to outstanding shares.
But the part you want to pay particular attention to is often found under part III. It's called the "Executive Compensation" section, and it explains how the firm's CEO and top executives are being paid each year.
The two primary ways executives are compensated are through stock options or cash, or a combination of both. When a CEO and top managers are paid in options, at least partially, this is a signal that they're dedicated to the company's success. If you think about it, those stock options won't be worth much if the company isn't thriving.
The Best Pot Stocks: After months of research, we've found the most lucrative and fastest-growing legal pot stocks in America. And for a limited time, you can get all the details for free. Learn more…
Conversely, if the CEO and other top managers are strictly paid in cash, this could be a red flag. It indicates those managers have no underlying incentive to keep the company growing. In fact, cash-only compensation could even indicate the firm is operating a scam in which the execs just collect cash until the business goes bankrupt.
Although this info in the 10-K filings is an important part of penny stock research, the filings can often be intimidating. These documents can be up to 100 pages long and are usually filled with confusing financial and legal jargon.
Fortunately, Money Morning Small-Cap Specialist Sid Riggs likes to do this difficult research for you. And today, he's recommending a stock set to explode from the cashless banking industry in 2018.
Cashless banking is the trend in which consumers are conducting more bank transactions on their phones than at brick-and-mortar bank locations. Sid's research indicates cashless banking as an industry could grow 716% over the next four years.
Here's the best small-cap stock to buy in this burgeoning industry…
One of the Top Small-Cap Stocks to Buy and Hold for 2018