In a rare upside to a disastrous situation, recent California wildfires have presented a unique opportunity for marijuana investors.
The fires are concentrated in Napa, Sonoma, and Mendocino counties - all of which are known for being the hub of wine country.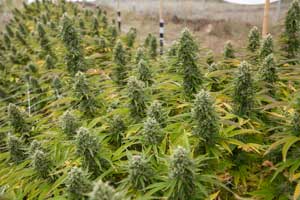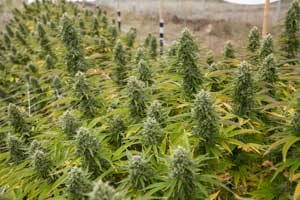 But these California acres are also a key part of what's called the "Emerald Triangle," the largest cannabis-producing region in the United States.
To date, the wildfires have burned over 170,000 acres along with thousands of homes and businesses.
And while it's too early to tell just how many of the state's estimated 10,000 to 15,000 marijuana farms have burned down, there's no doubt the damage is going to be extreme.
"The devastation is going to be larger than anybody would hope it to be," said Josh Drayton, spokesman for the California Cannabis Industry Association (CCIA), to CNN Money today (Oct. 12).
"These fires have been catastrophic for the cannabis cultivator community in the region," added Benjamin Bradley, another member of CCIA. "We've had dozens of CCIA members alone report total loss of both crop and homes."
Even worse, these fires come at a time when most cannabis companies are nearing harvest. The cannabis plants are still in the ground and could trap both the smell and the compounds present in the smoke, rendering them useless - and expensive.
"Some grows are as large as 40 acres," said John Torrens of Syracuse University to Leafly. "With the average price per pound of cannabis being $1,000, an acre of marijuana can yield as much as $800,000."
Special Report: Cannabis Is the Gold Rush of the 21st Century - 30 Stocks to Invest in Now. Details here...
That means a 40-acre farm could stand to lose as much as $32 million in product.
The wildfires are going to be a huge setback for marijuana companies who own or operate in the region.
However, this is also a buying opportunity for savvy investors...
Now Is Your Opportunity to Own This Sought-After Company
Marijuana companies have been skyrocketing lately as more states legalize and cannabis culture normalization continues to sweep the nation. We've seen pot stocks climb 75%... 100%... even as high as 350% over the past six months.
But with thousands of acres of cannabis being destroyed in the epicenter of growth, these stocks are likely to take a hit.
Which means now may be the perfect time to own one of the most established (and increasingly expensive) stocks today.
Mom & Pop growers and massive cultivators alike love this company, because it's not only a leader in the marijuana space, but also the largest maker of lawn care and garden products in the world.
We're talking about Scotts Miracle-Gro Co. (NYSE: SMG).
In 2015, Scotts officially entered the marijuana space with its purchase of General Hydroponics, a company that helps growers use air, light, and water to grow marijuana - without the need for soil. Then, in 2016, Scotts' wholly-owned subsidiary, The Hawthorne Gardening Company, spent over $226 million acquiring two other hydroponic companies.
"Scotts bought into the hydroponics field simply because it's a very attractive business, with much higher profit margins than traditional lawn and garden supplies," said Money Morning Director of Technology & Venture Capital Research Michael A. Robinson on Sep. 25. "[Scotts' CEO] Hagedorn is a big believer in market share, and he likely looks at the emerging hydroponics and cannabis markets the same way."
Never Miss a Single Marijuana Industry Update Again: Get real-time alerts sent directly to your inbox, completely free, here.
Over the past six months, shares of Scotts have risen 5.7%. Over the past year, 15.86%.
But as a huge partner in the marijuana industry, Scotts will surely see the wildfires affect its stock price.
What's more, General Hydroponics sits just a few miles from where the worst of the fires are destroying everything in their path; roadways, homes, businesses - you name it. So damage to property and loss of product are a concern for the company and could ultimately drive shares of Scotts lower in the short term.
Scotts Will Rebound... and You Will Profit
According to Manifest Minds LLC, the global crop value of hydroponically grown plants is on pace to rise from $17 billion in 2013 to $24 billion by 2018.
That's a 41.7% increase in just five years.
"If other countries follow the lead set by the United States, pot cultivation - and hydroponics - could well soar much higher than that," according to Michael.
These are industry-wide trends; no fire will permanently derail them.
And Scotts' fundamentals make it the perfect choice to enjoy the gains from this burgeoning industry.
"For one thing, Scotts is already quite popular with mutual fund managers, who like the fact that the firm has boosted its dividend for seven straight years," said Michael. "Scotts is the clear choice to anchor the low-risk end of the spectrum."
The company's four leading brands (Scotts, Miracle-Gro, Round-Up, and Ortho) already have a commanding position in the agriculture space, with market shares ranging from 53% to 70%.
Its recent investments in the burgeoning hydroponics industry could help it turn into a marijuana industry market leader, too.
If this fire spooks investors, that's your cue. Now that Scotts has hitched itself to this skyrocketing industry, you may not get a better shot.
Up Next: 30 Stocks on Michael's Pot Stock Profit Radar
Scott's Miracle-Gro is just one of the high-profit-potential pot stock picks in Michael's new, updated Roadmap to Marijuana Millions Phase II.
For the last eight months, Michael and his team have dedicated thousands of man hours and over $250,000 toward the most exhaustive analysis of the marijuana industry to date.
He's met with leading growers, dispensaries, angel investors...
And he's vetted the next generation of weed stocks that are poised to make marijuana investors rich. They're all in the latest edition of his "weed investors' bible," looking ahead at the very best legal weed investment ideas in 2018. Click here to learn how to get yours today...
Follow Money Morning on Twitter @moneymorning, Facebook, and LinkedIn.