Although it's rebounded 4.2% since September, we don't recommend buying Exxon Mobil stock for 2018.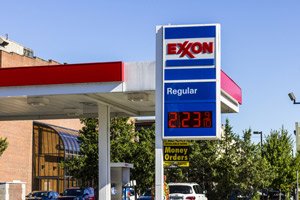 Instead, Money Morning Global Energy Strategist Dr. Kent Moors has picked a smaller oil stock that could benefit from a $1 trillion oil boom happening right here in the United States. This boom deals with one region of the country that has about as much oil as all of China.
Exxon Mobil Inc.'s (NYSE: XOM) 4% rebound over the last month can be attributed to the plunging U.S. dollar...
You see, Exxon had non-U.S. operations earning roughly $6.6 billion in the first half of 2017. When the company brings that foreign cash back to the United States, it's converted to dollars. If the dollar is stronger against other currencies, that bottom line can be much lower than expected.
Now that the dollar is extremely weak, investors think it signals more cash - and stronger earnings - ahead. The U.S. Dollar Index (DXY) - which pegs the dollar against the euro, yen, and several other currencies - fell to a 32-month low on Sept. 8. Since then, shares of XOM stock are up 4.7% to $82.55 today.
And that isn't the only reason we are not recommending Exxon Mobil stock today. In fact, there is one major problem on the company's balance sheet that's the biggest warning sign of all...
1 Big Reason Why Exxon Mobil Stock Is Dangerous to Own
Like other oil supermajors, Exxon Mobil's extremely high debt makes it a risky oil stock to buy right now.
From 2006 to 2016, Big Oil companies - like Exxon, Royal Dutch Shell Plc. (NYSE ADR: RDS.A), and Chevron Corp. (NYSE: CVX) - saw their debt levels increase tenfold.
Kent's research indicates this largely stemmed from oil's 46.5% crash between 2014 and 2016. That price crash also cut the firms' return on drilling projects from 22% to 7% between 2006 and 2016.
But Exxon's debt is much worse than the rest of the energy sector...
According to the latest data from stock researcher CSI Market, the entire energy sector's average debt/equity (D/E) ratio - which measures how much debt companies use to finance their business - is 0.06.
Meanwhile, Exxon's D/E ratio is nearly quadruple that, at 0.23. It's steadily climbed over the last three years, up from 0.12 in June 2014.
Taking on high levels of debt can temporarily boost earnings, but this strategy hasn't been successful for Exxon. As the D/E ratio has nearly doubled since June 2014, Exxon's annual profits have declined a massive 76% from 2014 to 2016.
With its debt levels continuing to outpace earnings, it's clear Exxon's business isn't growing right now even as oil prices are back above $50. That's why we advise against investing in Exxon Mobil stock.
This Could Make Big Oil Obsolete: One gallon of this new fuel could produce enough energy to power a car for 42,325 miles. It's being hailed by many experts as energy's "Holy Grail." Read more...
That's why Kent - a globally recognized energy expert with over 40 years of experience - is recommending a different oil stock to buy today.
It's a midstream master limited partnership (MLP), which is a company that stores and transports oil. This type of "middleman" company makes money as long as oil keeps flowing from the producer to the seller, meaning it's hardly affected by oil price fluctuations.
But Kent also likes this firm because it's at the center of an oil revolution, which could yield upward of $1 trillion to the companies that get to it first...
The Best Oil Stock to Buy to Profit from This $1 Trillion Oil Boom