The attorney general (AG) is in charge of a sprawling Justice Department bureaucracy of 113,543 employees, but Attorney General Jeff Sessions is focusing too much on marijuana regulation.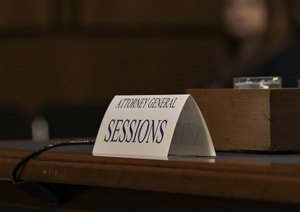 During an Oct. 10, 2017, event at the John Jay College of Criminal Justice, former AG Eric Holder said Sessions' "almost obsession with marijuana" has put the Department of Justice in a "strange place," according to Civilized.
You see, Holder had the foresight to know marijuana legalization is more than just a trend. Currently, 29 states and the District of Columbia have legalized medical marijuana.
And in his 2013 memorandum, known as the "Cole Memo," Holder instructed federal prosecutors not to interfere with state-legalized marijuana programs as long as they were compliant with state laws.
However, Sessions has a very different view toward cannabis legalization, but it won't stop the marijuana industry's growth trajectory...
Jeff Sessions Wants to Derail the Marijuana Industry
In a Sept. 20 press conference, Sessions said, "I've never felt that we should legalize marijuana."
And during the summer of 2017, he even started a crusade against Alaska because of its legalized recreational marijuana laws.
In a July 24 letter obtained by The Huffington Post, Sessions told Alaskan officials that the "2015 Annual Drop Report" released by Alaska State Troopers "raises serious questions about whether marijuana 'regulatory structures' will be effective in your state."
Video
These Four Events Will Make Marijuana Investors Rich
But U.S. Gov. Bill Walker (I-AK) and Alaska AG Jahna Lindemuth were quick to note the report was not relevant to current cannabis regulations in Alaska.
The report was released before licensed companies could sell cannabis, and Lindemuth argued that Sessions' critiques did not speak to "the success or failure of the new regulatory framework."
Lindemuth also said Alaska has strict laws that keep marijuana away from children, ensures Alaskan residents are fully informed about the risks of cannabis use, and that the state has strict controls to neutralize criminal cannabis growers.
Special Report: Cannabis Is the Gold Rush of the 21st Century - 30 Stocks to Invest in Now. Details Here...
And despite Sessions' attempts to crack down on the industry, even the Trump administration isn't supporting his efforts.
As part of a temporary budget deal struck with Democrats on Sept. 6, 2017, U.S. President Donald Trump agreed to restrain Sessions. The government will continue banning the use of federal funds to interfere with medical cannabis businesses operating in states where it's legalized.
That means Sessions doesn't have any choice but to leave medical marijuana businesses alone.
That's not only good news for the marijuana companies, but also for those who invest in them.
Here's how you can get in on the action and potentially turn a small stake into $100,000...
Jeff Sessions Can't Stop Marijuana Stock Profits