The oil price news gave traders mixed signals this week, with both bearish and bullish indicators. Despite this week's news, we're still expecting oil prices to rise 14% by the end of the year...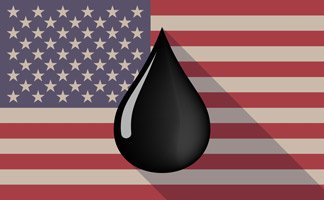 First, on Wednesday (Oct. 11), OPEC reported oil production among member countries rose by 90,000 barrels in September. That jump in oil production has traders concerned that the oil cartel is struggling to maintain its production cap. The production cap started in November 2016 and was renewed in May 2017.
Second, the EIA's latest "Weekly Petroleum Status Report" showed that U.S. crude oil inventories fell by 2.8 million barrels since last week. That's a sign that American oil production might be slowing, despite growing 4.4% this year.
Those contradictory reports vexed oil traders this week.
Energy Breakthrough: One gallon of this new "crystal fuel" could get you from New York to L.A. and back... seven times! Read more...
WTI crude oil prices started Wednesday morning at $51.29 a barrel. The price dropped to $50.62 after OPEC's report came out, but rallied to $51.34 by the end of the day.
Oil prices are now back to $51.27.
The biggest reason oil prices have been volatile this week is that traders are overreacting to short-term data. But our readers know this short-term data doesn't mean much.
You see, crude oil prices are headed even higher before 2018, and we have three reasons why...
3 Reasons Why Oil Prices Will Jump 14% Before 2018
First, global demand for oil is rising.
The EIA, IEA, and OPEC all agree that global oil demand is growing. The EIA says global demand for energy will rise 25% by 2040, and oil is necessary for meeting that demand.
While 2040 might sound like a long way off, rest assured, the short-term demand is rising too.
Money Morning Global Energy Strategist Dr. Kent Moors says "we'll end 2017 at the highest daily demand level in history."
In fact, the IEA just reported that Chinese oil demand alone will grow to half a million barrels a day by the end of the year.
Second, OPEC and Russia will extend their production cuts in 2018.
OPEC and 11 other countries plan to extend their production cap agreement from May 2017. The deal called for the participants to cut oil production by 1.8 million barrels a day. The deal effectively caps the cartel and participating countries' oil production at 32.5 million barrels a day.
Top Story: American Oil Just Upset the World Order and No One Noticed
And despite last month's jump in oil production, the compliance with the deal reached a 95% compliance level in May. That's a big reason oil prices have rallied from a 2017 low of $42.49.
Third, American shale production isn't going to surge.
Because shale oil is more expensive to extract - breakeven prices can be as high as $70 a barrel - rising oil prices lead to more American oil production. That OPEC's deal reduces oil supply to boost the price of oil, only to have American oil companies begin pumping more oil to take advantage of the higher price, is a puzzle for oil traders.
Moors isn't concerned.
"Restraint has taken over the oil patch," Moors said.
Now, that doesn't mean U.S. producers aren't going to take advantage of higher prices. Moors says that will keep oil from skyrocketing to $100 a barrel anytime soon. But American producers are better matching supply to demand instead of flooding the market with oil and crashing the price.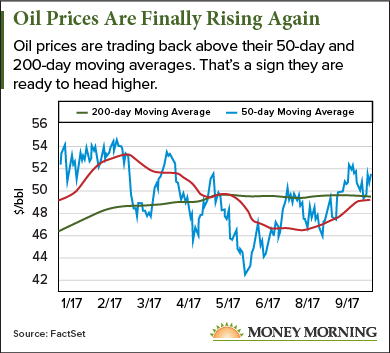 That's what happened in 2014. Oil prices skyrocketed by nearly 200% between 2009 and 2013. Those prices sent American oil production higher too. Production doubled between 2009 and its peak in 2014, and that excess supply crashed prices. The price of oil collapsed from $107.49 in 2014 to a low of $34.30 in 2016.
But oil production isn't going to rise nearly that dramatically again. U.S. production is up just 4.3% this year, and the EIA is forecasting a modest 5% growth in 2018.
That's why Moors is expecting oil prices to rise to a range of $55 to $57 a barrel by the end of the year.
And that's great news for investors...
Because of the United States' vast oil deposits - $20 billion more barrels were just discovered in West Texas last year - oil prices don't need to reach all-time highs again for investors to cash in.
You just need to know which companies to own, and Moors has found the right oil stocks that can generate unimaginable wealth...
You Can Multiply Your Money 10 Times Over with American Oil Stocks