When it comes to building wealth, retirement planning, or any other endeavor involving money and investing, the person across the table from you – your broker – is not your friend.
He will tell you he is. She may even want to be your friend. This individual could be convinced they are helping people to achieve their lifelong goals. And they will almost certainly be friendly.
But, at the end of the day, the broker is a salesman, and his or her compensation is coming right out of your nest egg.
Now, I'm not going to tell you to "break up" with your broker or that they're a bad person; I'm not out to demonize the folks who sell investments for a living. Not at all.
In fact, it's in your best interest to continue your friendly association with your broker.
I'm telling you this because I want to level the playing field. So that next time you sit across from your broker, you're in control. Eyes open.
Ultimately, when you control that dynamic, you come out ahead.
Because you'll be able to go after the kinds of "unreasonably good" returns – 15%, 20%, or more – that can really make a difference in your life.
Why Your Broker Can't Be Your Friend
You and your broker have two fundamentally different objectives, as you'll see. I'd even go so far as to say you're working at cross-purposes.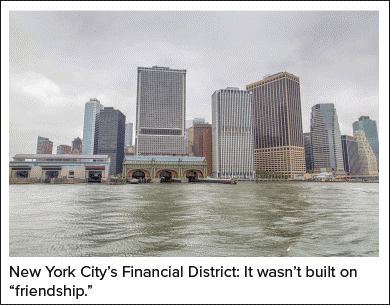 Their incentives are not aligned with yours, and it is almost impossible for them to rationally act in your best interests. Expecting them to do so is like expecting the car salesman to care whether or not that souped-up, expensive sports car is the best idea for a married guy with four young kids.
Does this make them a bad person? No. They're just doing their job – and your broker's job is to collect your assets and get them into some sort of program that generates fees and commissions for his employer.
Everything they do up to the point where you sign on the dotted line is part of the sales pitch. Everything after that is customer retention.
MUST SEE: This is CRUSHING the market – 3,600% in total winning gains (including partial closeouts).
Still, I am not among those who think all brokers are evil.
Sure, there are some "Wolf of Wall Street"-types out there, but the average broker is a pretty decent human being.
Most of them are great people, in fact. They do great things in their communities, and many of them are civic leader types. They give to charities and belong to volunteer groups that do good things.
I should know: I was a broker for more than 20 years.
Join the conversation. Click here to jump to comments…
About the Author
Tim Melvin is an unlikely investment expert by any measure. Raised in the "projects" of Baltimore by a single mother, he never attended college and started out as a door-to-door vacuum salesman. But he knew the real money was in the stock market, so he set sights on investing - and by sheer force of determination, he eventually became a financial advisor to millionaires. Today, after 30 years of managing money for some of the wealthiest people in the world, he draws on his experience to help investors find "unreasonably good" bargain stocks, multiply profits, and build their nest eggs. Tim tirelessly works to find overlooked "hidden gems" in the stock market, drawing on the research of legendary investors like Benjamin Graham, Walter Schloss, and Marty Whitman. He has written and lectured extensively on the markets, with work appearing on Benzinga, Real Money, Daily Speculations, and more. He has published several books in the "Little Book of" Investment Series and a "Junior Chamber Course" geared towards young adults that teaches Graham's principles and techniques to a new generation of investors. Today, he serves as the Special Situations Strategist at Money Morning and the editor of "Max Wealth" and Heatseekers.