The top penny stocks to watch this week have all seen gains of at least 35.3% since Monday, Oct. 9. Today, we've ranked the 10 biggest gainers over the last week that we'll continue to watch this trading week.
And as a bonus, we're also giving you one of our top stocks to buy that we predict has gains ahead of it in 2018...
Penny Stock to Watch
Current Share Price
One-Week Gain (Oct. 9-13)
Leading Brands Inc.

(Nasdaq: LBIX)

$2.99
+248.6%
Roka Bioscience Inc.

(Nasdaq: ROKA)

$1.61
+101.3%
Infinity Pharmaceuticals Inc.

(Nasdaq: INFI)

$2.84
+78.6%
Sorrento Therapeutics Inc.

(Nasdaq: SRNE)

$3.00
+63.9%
Cleantech Solutions International Inc.

(Nasdaq: CLNT)

$5.69
+71.4%
Onconova Therapeutics Inc.

(Nasdaq: ONTX)

$2.68
+53.1%
China Lending Corp.

(Nasdaq: CLDC)

$4.53
+45.1%
Patriot National Inc.

(NYSE: PN)

$1.42
+43.9%
Rand Logistics Inc.

(Nasdaq: RLOG)

$0.42
+40.2%
CASI Pharmaceuticals Inc.

(Nasdaq: CASI)

$2.57
+36.4%
BRILLIANT: Average Americans Are Becoming Marijuana Millionaires
The biggest penny stock gainer over the last week is Leading Brands Inc. Shares of the beverage company - which owns the TrueBlue and PureBlue juice brands - have climbed 248.6% in the six trading sessions since Oct. 9. They've soared 121.5% since last Friday, following the firm's better-than-expected fiscal Q2 earnings report.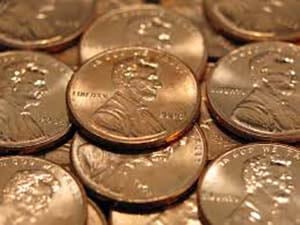 According to Nasdaq, Leading Brands posted a loss of $0.25 per share on revenue of $510,000. While revenue was down from $568,000 in the same quarter last year, the $0.25 loss per share was up 16.7% from a $0.30 loss per share over the same period. This shows the company is inching toward profitability, which is boosting the LBIX stock price by 31.7% today.
LBIX is at the top of our "penny stocks to watch" list, because it currently trades at its highest price since Nov. 13, 2015. With momentum behind the stock following its earnings report, it'll be interesting to see if its shares reach new record highs.
However, we don't recommend investing in Leading Brands or any other stock on the list. While they may look enticing right now, their gains last week don't guarantee they'll keep heading higher. Plus, buying in at their inflated prices might mean you won't make much of a profit if they do grow.
But Money Morning Small-Cap Specialist Sid Riggs has found an auto stock that's positioned to bring investors profits in 2018. His pick isn't a big-name company like General Motors Co. (NYSE: GM) or Toyota Motor Corp. (NYSE: TM).
Instead, it's a company that operates solely in one of the world's fastest-growing markets - China's car market.
Auto sales in the country increased by 45% from 2013 to 2016. That rate demolished the European Union's and United States', which only saw sales rise by 22.9% and 12.5%, respectively. In 2015, China's car ownership rose to 172 million - over half the total U.S. population of 320.9 million.
And Sid - whose stock picks have netted Money Morning readers returns as high as 558% - says this stock could surge as Chinese consumers start changing the way they buy cars.
Here's Sid's recommendation...
The Best Stock to Buy to Profit from China's Exploding Car Market