The Dow Jones is on a record-setting run, but that doesn't mean a 2018 stock market crash can't happen. And smart investors are always prepared for the worst, even when the market is soaring…
The Dow opened today (Monday, Oct. 16) at a record-high 22,931.39, as the second-longest bull market ever stretches to nearly nine years. While the soaring highs have been great for investors – the Dow is up 245% since March 2009 – that doesn't mean the next stock market crash is years away.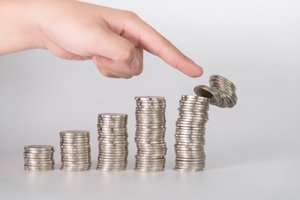 We aren't expecting the market to fall – we actually think it can run even higher – but no one can predict a stock market crash with any precision. That's why it makes sense for investors to plan ahead, even if stocks are soaring to record-breaking heights.
And to help you plan, we're showing you a few stock market crash warning signs to keep an eye on. Plus, we have some of the most resilient stocks to own, which could help you protect your money during a market crash…
Stock Market Crash Warning Signs to Look Out For
There are two warning signs we can point to that might ground your expectations about the soaring market.
First, Business Insider reported that Wall Street analysts are growing concerned over the stock market's low volatility.
That might sound counterintuitive, since we often consider low volatility to be a good sign for the markets. But the analysts' reasoning is that with volatility falling so low, it has nowhere to go but up. In other words, since the stock market tends to move in cycles of ups and downs, reaching one extreme might be a sign the markets are about to change direction.
According to the CBOE Volatility Index (VIX), volatility hasn't been as low as it has been this year for more than 20 years. Volatility, in short, is at an extreme point.
Urgent: An $80 billion cover-up? Feds use obscure loophole to threaten retirees… Read more…
Second, the U.S. Federal Reserve is hiking interest rates, and that could reduce the amount of money going into the stock market.
You see, the Fed drastically lowered interest rates to combat the financial crisis of 2008. Between 2007 and 2008, the Fed slashed rates from over 5% to 0.25%, its lowest rate ever.
The idea was to inject more money into the economy by making it easier for businesses to borrow money. When interest rates are low, businesses can borrow money at the low interest rates and use it to grow.
While businesses did borrow more money, they used it to repurchase shares of their own stock, boosting their companies' stock prices.
Video
Can You Pass This 5 Question Retirement Quiz?
Between 2008 and 2016, publicly traded companies borrowed $1.9 trillion while buying $2.1 trillion of shares of their own stock. That's part of the reason stock prices have been growing.
But now the Fed is set on raising interest rates again. They've hiked rates four times since 2015, and the CME FedWatch Tool shows they are likely to raise rates one more time in 2017. With rates now over 1% for the first time since 2008, they could potentially rise above 2% for the first time since the same year in 2018.
That means less borrowing, since borrowing costs are rising, and that could pull some money out of the stock market.
While these indicators don't mean the stock market will crash, they are reasons investors can't afford to be complacent even if stocks are soaring. Fortunately, there's a way to prepare for a market crash without fleeing the stock market entirely.
Here are three of our most resilient stocks on the market; stocks that can grow even if the market is tumbling…
How to Prepare for a 2018 Stock Market Crash