There is one caveat that could bring the United States and North Korea to the bargaining table.
This particular requirement was mentioned in passing yesterday (Oct. 16) to CNN by a North Korean official who spoke to the site on the condition of anonymity.
"Unless the hostile policy and the nuclear threat of the U.S. is thoroughly eradicated, [North Korea] will never put our nuclear weapons and ballistic rockets on the negotiation table under any circumstance and will never flinch even an inch from the road we have chosen," the unnamed DPRK official said, according to CNN today (Oct. 17).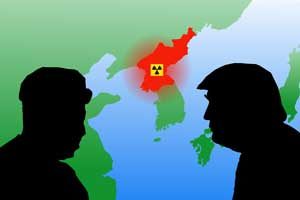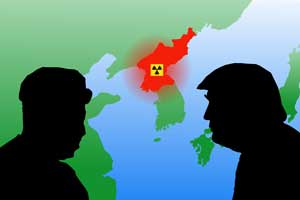 Notice that the North Korean official didn't call out China or other UN nations for their "hostile policies," though many are actively involved in the ongoing sanctions on the regime.
No, North Korea is focused solely on Uncle Sam - at least, according to the anonymous official's statement.
And while it's pointless to ask the United States to give up its nuclear artillery, America could ostensibly give up the "hostile policy" to which the North Korean official so pointedly referred.
Especially since other policies haven't worked recently.
Here's what we mean...
Added Military and Economic Pressures on North Korea Aren't Working
Washington's increased economic and military pressures on North Korea haven't worked.
Just look at Obama's "strategic patience" plan, characterized by refusing to offer North Korea incentives to return to the negotiating table and increasing sanctions in response to the regime's provocations.
The North Korean regime has only become more volatile.
And the current administration's policies haven't borne any fruits either...
In August, the United States sent 800 more soldiers and about 40 Abrams main battle tanks to South Korea.
And at America's behest that same month, China agreed to new UN-imposed sanctions on Pyongyang over its recent missile tests. Those sanctions included strict limitations on refined petroleum product exports and a halt to all condensate and liquefied natural gas exports from Beijing to Pyongyang.
Despite these massive, drastic efforts, North Korea has continued making threats toward Uncle Sam. Furthermore, the regime is expected to test another ICBM any day now.
All this is to say, diplomatic efforts may be the only efforts the United States and its allies effectively have left to rely upon with the Hermit Dynasty, lest we fall back on all-out war...
Diplomatic Negotiations with North Korea May Be All We Have Left
On Sept. 20, U.S. Secretary of Defense James Mattis insisted that Washington is still looking for a diplomatic solution. "It is still a diplomatically led effort," the four-star Marine Corps general told a press conference that day.
And yesterday (Oct. 16), Secretary of State Rex Tillerson said that U.S. diplomatic efforts aimed at resolving the North Korean crisis "will continue until the first bomb drops," reported PBS News Hour.
Must See: The Defense Industry Is a Gold Mine - You Can't Afford to Miss This $6 Company...
Yet, despite assurances from these two top-tier officials in President Donald Trump's administration that the United States would like to continue to seek a peaceful resolution to the North Korean nuclear crisis, the unidentified North Korean official still complained of America's "hostile policy."
That means there is still one "hostile" American force stoking the flames of Kim Jong Un's ire:
President Donald Trump.
Hostile Words Can't Lead to Diplomatic Ones
President Trump has no faith in a diplomatic solution, which all but precludes the possibility of one.
On Monday, Aug. 7, the UN Security Council approved new sanctions on North Korea.
The following day, Trump offered up war-mongering words in a news briefing that was supposed to have focused primarily on the ongoing opioid crisis stateside.
"North Korea best not make any more threats to the United States," he said, according to The Atlantic on Aug. 8 "They will be met with fire and fury like the world has never seen. He has been very threatening beyond a normal statement, and as I said they will be met with fire, fury, and frankly power, the likes of which this world has never seen before."
And when Mattis made his statement on "North Korean diplomacy" on Sept. 20, he did so on the heels of the president's much-anticipated inaugural speech to the UN on Sept. 19.
During that speech, Trump railed against the post-war international order built by America and launched another verbal assault on North Korea, which he threatened to "totally destroy."
Don't Miss Out: Never miss a single North Korea update again. Get real-time alerts sent to your inbox completely free, here.
And on Oct. 1, Trump tweeted out another condemnation of diplomacy:

Behold the "hostile U.S. policy" that the unidentified North Korean official claims is standing between North Korea and the negotiating table.
And if that is indeed the case, investors beware: Negotiations could be years away.
Fortunately, there are many ways investors can prepare - especially with their finances.
Indeed, there are big gains to be captured coming out of all the mergers and acquisitions occurring among military contractors right now...
Defense M&A - and a Whole Lot More
The iShares U.S. Aerospace & Defense ETF (BATS: ITA) owns many, if not most, of the firms involved in today's defense industry mergers.
Back in November 2015, Lockheed Martin Corp. (NYSE: LMT) scooped up Sikorsky Aircraft Corp., the world's top producer of helicopters. Both were ITA holdings.
And around a month ago, United Technologies Corp. (NYSE: UTX) shelled out a hefty $23 billion to buy Rockwell Collins Inc. (NYSE: COL). That ranks as one of the biggest deals in aviation history - and both are ITA holdings.
Make no mistake. These deals bring a payoff for investors in both the acquiring and targeted firms.
So, with ITA holding 39 of the top defense firms, there's profit to be gained from both sides of these transactions.
Indeed, the growth in this ETF is accelerating. It only grew 1.75% in 2015, but 19% in 2016, and it's up a whopping 30% year to date. And if North Korea refuses to negotiate with President Trump, that growth will only continue.
In short, ITA is a cost-effective growth profit play on the advanced technology and increased efficiency that are keeping America safe right now.
That's not an investment you want to miss.
Up Next: Secret Weapon Set to Foil China's Master Plan
The South China Sea is about to get violent, and the Chinese have an alarming new superweapon they think gives them the upper hand.
Or at least, that's what their war hawks think. But they couldn't be more wrong.
Thanks to a small $6 U.S. defense contractor with a top-secret technology, the Pentagon has an ingenious new checkmate move designed to stop a Chinese sneak attack dead in its tracks. Click here to learn more...
Follow Money Morning  on Facebook, Twitter, and LinkedIn.
Related Articles:
Here Are 10 "One-Click" Ways to Earn 10% or Better on Your Money Every Quarter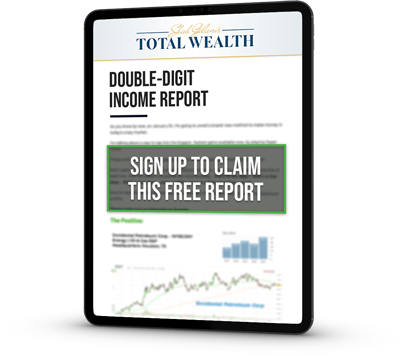 Appreciation is great, but it's possible to get even more out of the shares you own. A lot more: you can easily beat inflation and collect regular income to spare. There are no complicated trades to put on, no high-level options clearances necessary. In fact, you can do this with a couple of mouse clicks – passive income redefined. Click here for the report…