Silver is having a strong October so far as the metal's price has been rising.
The month started off with volatility, as silver prices fell 0.4% from $16.68 at the Sept. 29 close to a two-month low of $16.62 on Oct. 4. But they've rebounded 3% since then to $17.03 today (Tuesday, Oct. 17).
Also, the silver price has been playing "catch-up" with the gold price. The gold/silver ratio pulled back to 75 from its Sept. 25 peak near 77. Not to mention, we're nearing a seasonal decline for gold, which tends to put in a near-term bottom in the second half of October. After all, gold's average October performance over the last 10 years is a 0.7% decline.
I expect silver to follow along pretty closely, meaning it could pull back through the rest of the month. So look for gold's inexpensive cousin to reach an interim low sometime soon, with the main wild card being the U.S. dollar's rebound.
I still think the U.S. Dollar Index (DXY) – which measures the dollar against the euro, yen, and other major currencies – has some bounce left in it. Despite falling from 93.80 on Oct. 6 to 93.09 on Oct. 13, it's back up to 93.71 in just two trading sessions.
If the DXY continues higher, the price of silver could follow, but at a more muted pace. I don't think silver is ready for a big rally quite yet, but it shouldn't be too much longer. In fact, I still think prices could climb at least 20.4% before 2018.
Before I show you my complete silver price forecast, let's examine the metal's impressive 4.7% rebound last week…
Silver Climbs 4.7% Over the Last Week (Oct. 10-17)
After settling at $16.97 on Monday, Oct. 9, silver opened higher on Tuesday, Oct. 10, thanks to the weakening DXY. It fell from 93.67 to 93.29 during the session, which lifted silver prices 1.4% to close the day at $17.21.
The metal had a volatile day of trading on Wednesday even as the dollar kept moving lower. The silver price started the session lower at $17.14, trending between that level and $17.07 for most of the day as the DXY fell to 93.02. Silver eventually settled at $17.13 for a 0.5% loss on the day.
But bullish momentum returned on Thursday, Oct. 12. That was when the price of silver opened up at $17.21 even in the face of the DXY's leap up to 93.20. By the end of the session, the metal was up 0.8% to $17.27.
Here's a look at the U.S. Dollar Index from Tuesday, Oct. 10, to yesterday (Monday, Oct. 16)…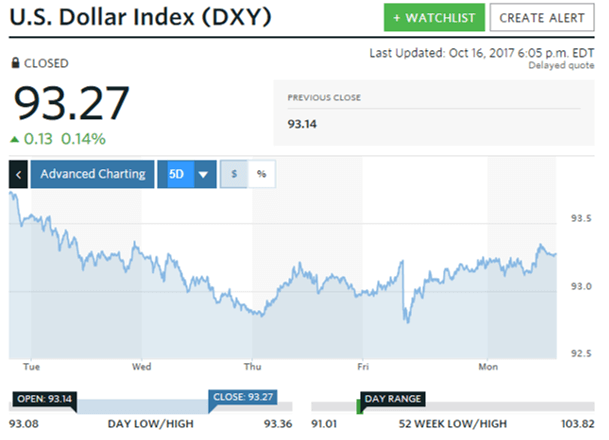 On Friday, Oct. 13, the silver price rallied to its highest close since Sept. 15 thanks to a volatile dollar. The DXY plunged toward an intraday low of 92.75 in response to a weaker-than-expected U.S. Consumer Price Index (CPI) report. The CPI increased just 0.1% last month – below analyst expectations of 0.2%.
While that report tanked the dollar, it boosted silver by 0.8% to close at $17.41. That marked a gain of 3.7% for the entire trading week (Friday, Oct. 6 – Friday, Oct. 13).
Yesterday (Monday, Oct. 16), silver prices fell back from Friday's one-month high. This came as the DXY leaped from 93.09 to 93.26 over the course of the session. Silver declined 0.2% to settle at $17.37 on the day.
Urgent: Executive Editor Bill Patalon just saw something on his precious metals charts he's only seen twice in 20 years. He calls it the "Halley's Comet of investing" – and it could lead to windfall profits. Read more…
And the price of silver today (Tuesday, Oct. 17) is even more volatile, with the metal looking like it may test the $17 level. Prices are down 2% and trading at $17.03.
With this week's decline, it's looking more like last week's rally was just a brief reaction to the dollar's short-term weakness. I think the dollar could still keep pushing higher in the interim, which could drag silver back down.
But looking at the long-term picture, it's possible that silver could rise with the dollar through the rest of the year. I predict the silver price could rise a minimum of 20.4% before the year ends.
Here's my silver price forecast…
Silver Prices Could Rally to This Bold Target Before 2018
Join the conversation. Click here to jump to comments…
About the Author
Peter Krauth is the Resource Specialist for Money Map Press and has contributed some of the most popular and highly regarded investing articles on Money Morning. Peter is headquartered in resource-rich Canada, but he travels around the world to dig up the very best profit opportunity, whether it's in gold, silver, oil, coal, or even potash.