Yesterday (Oct. 18), news broke that billionaire philanthropist George Soros had transferred a whopping $18 billion to his Open Society Foundation (OSF) - a liberal-leaning organization responsible for injecting millions into U.S. elections for nearly a quarter century.
While the donation had actually been spread out over the past few years, reported The Wall Street Journal today, it was yesterday that the OSF became the second-largest philanthropic organization in the United States (behind the Bill and Melinda Gates Foundation).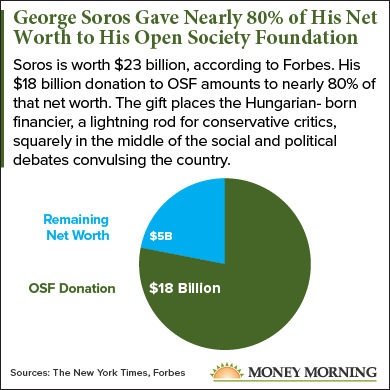 Soros' net worth, by the way, was $23 billion, according to a Forbes tally yesterday - which means this latest contribution was no drop in the bucket. Rather, it constituted almost 80% of what was in the billionaire financier's bank accounts.
Since the society's inception in 1993, Soros had donated a sum total of $12 billion to the organization, according to the organization's own website.
Until this latest $18 billion donation, of course, which is 50% greater than that 24-year sum.
This massive donation will allow the OSF to more effectively pursue all of its objectives, but investors should keep their eyes on one goal in particular.
A goal that Soros alluded to last November, just 14 days after the presidential election...
George Soros Is Hell-Bent on Disrupting American Politics with Money
On Nov. 22, Soros declared, "we must do something to push back against what's happening here," reported to The New York Times. He went on to decry what he called the "dark forces that have been awakened" by the election of U.S. President Donald Trump.
Enter Soros' fortune - which he has a long history of using to disrupt American politics - especially since the Supreme Court ruled in 2010's Citizens United v. Federal Election Commission that corporations, unions, and certain nonprofits (like the OSF) should be allowed to raise and spend unlimited amounts of money to advocate for and against political candidates.
Urgent: Executive Editor Bill Patalon just saw something on his precious metals charts he's only seen twice in 20 years. He calls it the "Halley's Comet of investing" - and it could lead to windfall profits. Read more...
Soros immediately began using the OSF to donate millions to various PACs and super PACs in an effort to put more Democrats in positions of power.
In 2010, for example, the OSF gave progressive super PACs $1.7 million, according to the Center for Responsive Politics, which keeps comprehensive records of federal campaign contributions and lobbying data.
Ahead of the 2014 midterms, OSF contributions to super PACs came to roughly $3.5 million, doubling the previous midterm sum, CNBC reported on Aug. 30, 2017.
In 2016, Soros donated $8 million to the Hillary Clinton campaign, according to Politico.
So, here we are today, quickly approaching the 2018 midterms with a full Republican government at the helm and with tax reform and healthcare on the brink of sweeping GOP-led changes.
Enter Soros' fortune once again - this time $18 billion stronger.
A portion of that sum will undoubtedly be discretely dispersed throughout America, which is Soros' quiet way of affecting mass change...
Soros' Quiet Overhaul of the U.S. Justice System