(Kitco News) – World stock markets were mostly lower overnight. U.S. stock indexes are pointed toward solidly lower openings when the New York day session begins.The bourses are seeing some profit taking after recently hitting record or multi-year highs. Today is the 30th anniversary of the "Black Monday" record-setting crash of the U.S. stock market.
Gold and silver prices are firmer in pre-U.S.-session trading, on a bit of safe-haven demand amid the drop in world stock markets today.
In overnight news, China's gross domestic product was reported up 6.8% in the third quarter, year-on-year. That's just a bit down from the 6.9% rate in the second quarter.
The rift between Spain and its Catalonia region deepened Thursday when the Catalan leader did not respond to a government order to stop his secessionist plans. Spanish government officials are holding an emergency meeting on the matter.
China on Wednesday started its twice-a-decade Party Congress meetings, in which major economic and cultural planning initiatives are laid out for the next five years. Traders and investors will keep a close watch for any pronouncements coming out of those meetings.
The key "outside markets" Thursday morning see the U.S. dollar index slightly lower. Meantime, Nymex crude oil futures prices are lower and trading above $51.00 a barrel.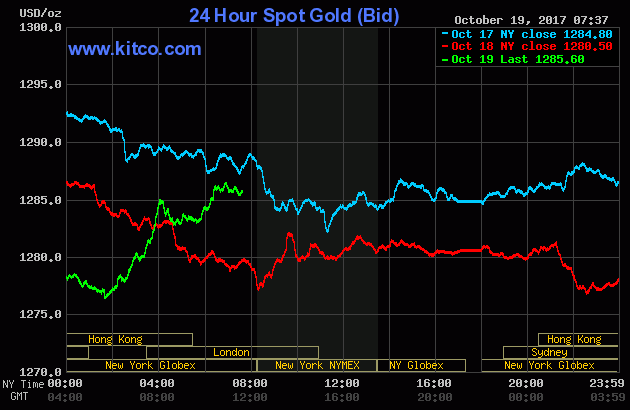 U.S. economic data due for release Thursday includes the weekly jobless claims report, the Philadelphia Fed business survey, and leading economic indicators.
By Jim Wyckoff, contributing to Kitco News; jwyckoff@kitco.com