There's a massive Canadian marijuana news story that we've been following for over a year here at Money Morning. The news could lead to the Canadian cannabis industry growing by 400% in just four years, and you can profit by getting in right now...
On July 1, 2018, the Canadian government is set to legalize recreational marijuana across the entire country.
This was a key part of Canadian Prime Minister Justin Trudeau's political campaign in 2015, and it's a promise he intends to keep, as most Canadian citizens want legalization. In a 2016 CTV News poll, 69% of participants said they support legalizing recreational cannabis.
While Canadians are happy about legalization, we're more interested in the profit potential. And Canadian marijuana legalization is going to be a massive wealth creator.
Not only could it quintuple marijuana sales, but you will be able to profit from it in 2018...
How This Canadian Marijuana News Could Revolutionize the Cannabis Sector
Right now, Canadians can only use marijuana for medical purposes. The medicinal marijuana legislation went into effect in 2001 and made Canada the first country in the world to adopt formal regulations for the medical use of cannabis.
That was a major catalyst for the marijuana industry. Canadian cannabis demand continues to rise as the number of medical patients has been soaring this year...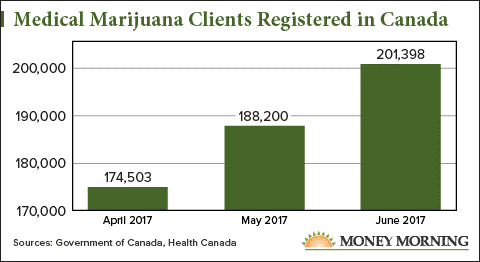 The most recent data from the Canadian government shows the total number of registered medical marijuana users climbed 15.4%, from 174,503 in April to 201,398 in June.
The growing demand among the Canadian population is a sign of the potential growth in store for the country's entire cannabis industry after the July 1, 2018, legalization.
Pot Profits: Forget Jeff Sessions! These Five Canadian Pot Stocks Are Set to Skyrocket. Click Here...
According to Money Morning Director of Technology and Venture Capital Research - and marijuana expert - Michael A. Robinson, Canadian legalization could boost sales by 400% over the next four years. That would be up from $900 million last year to $4.5 billion in 2021.
Michael - whose marijuana stock picks have handed readers returns as high as 88% this year - just released a time-sensitive briefing that shows you exactly how to make money from Canada's upcoming legalization.
If you're an investor who can afford some risk, there are five tiny pot stocks that Michael says could explode thanks to the projected 400% growth in Canadian marijuana sales.
Here's how you can receive Michael's urgent briefing before these five marijuana stocks take off...
How to Profit Today from Canada's Nationwide Marijuana Legalization