(Kitco News) – World stock markets were mostly higher overnight. U.S. stock indexes are also pointed toward firmer openings when the New York day session begins. Global equities were boosted overnight in part on news the U.S. Senate passed a tax-reform blueprint package late Thursday. If the so-called blueprint becomes law it would likely help to stimulate the U.S. economy via lower tax rates.
Gold prices are lower in pre-U.S.-session trading amid the keener risk appetite in the marketplace Friday, and on a higher U.S. dollar index. The greenback was also supported on the U.S. Senate passage of the tax-reform blueprint.
The Euro currency is under pressure late this week after the Spanish government got a rebuke from the Caladonia region's leader on Thursday. Spanish government officials are holding an emergency meeting Saturday to discuss tightening their grip on the Caladonia region.
The other key "outside market" Friday morning sees Nymex crude oil futures prices lower and trading just below $51.00 a barrel. The oil market bulls have the slight overall near-term technical advantage.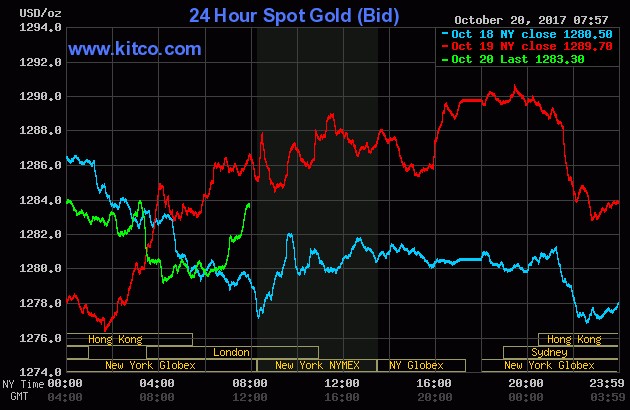 U.S. economic data due for release Friday is light and includes existing home sales. Fed Chair Janet Yellen also gives a lecture, but it's not certain she will talk about current U.S. monetary policy.
By Jim Wyckoff, contributing to Kitco News; jwyckoff@kitco.com