Investors like penny stocks for one simple reason: They offer the potential of triple-digit gains or even quadruple-digit gains. Today, we're going to show you the top penny stocks to watch before 2018, including three of the year's biggest gainers.
After the list, we'll also show you another company that's one of Money Morning Small-Cap Specialist Sid Riggs's favorite small-cap stocks to buy for 2018.
First, here are three of 2017's biggest penny stock gainers, one of which is up 487% this year...
Penny Stocks to Watch No. 3: AVEO Pharmaceuticals Inc.
Video
The 3 Best Strategies for Trading Penny Stocks Today
AVEO Pharmaceuticals Inc. (Nasdaq: AVEO) is a Cambridge-based pharmaceutical company that specializes in treatments for cancer and other related diseases.
AVEO stock has skyrocketed 487% to $3.17 so far in 2017, with 441% of that rally taking place since June 23. This was when the company received its latest drug approval in Europe.
The approved drug is Tivozanib, which treats patients with advanced renal cell carcinoma. This is the most common type of kidney cancer, and it's also anticipated to be one of the fastest-growing cancers over the next decade.
Back in 2013, AVEO failed to get FDA approval for Tivozanib in the United States, but the firm does have an ongoing phase 3 trial expected to wrap up in Q3 2018. The approval of the drug in Europe will help add to the company's bottom line in 2018, which is why we'll keep watching AVEO stock next year.
Penny Stocks to Watch No. 2: Pieris Pharmaceuticals Inc.
Pieris Pharmaceuticals Inc. (Nasdaq: PIRS) is a Boston-based biotech that develops treatments for asthma and anemia.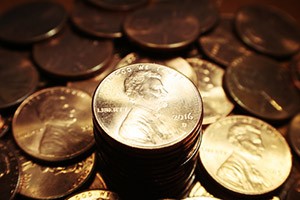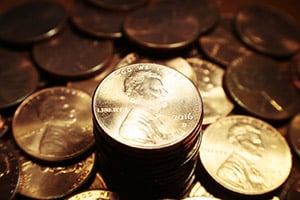 The PIRS stock price is up 255.8% to $5.01 so far this year, with 170.8% of those gains happening since May 3. That was when Pieris announced a collaboration agreement with AstraZeneca Plc. (NYSE ADR: AZN).
Under the terms of the partnership, Pieris is going to work on an asthma drug called PRS-060, which is supposed to start phase 1 trials this year. Once this happens, Pieris will receive $12.5 million from AstraZeneca, in addition to the $45 million already paid upfront.
In addition to PR-060, Pieris announced on Oct. 2 that it began dosing patients in their phase 1 clinical trial of PRS-343. This is meant to treat tumors commonly caused by breast, ovarian, and pancreatic cancers.
Penny Stocks to Watch No. 1: Verastem Inc.
Verastem Inc. (Nasdaq: VSTM) is a cancer-focused biotech firm based in Needham, Mass. It's engaged in clinical trials for a variety of drugs that treat lung, ovarian, and pancreatic cancers, among others.
Shares of VSTM stock are up 251.8% to $3.91 in 2017. The stock rallied 28.1% on Sept. 6 alone after the firm announced it would expand trials of its leukemia treatment Duvelisib to patients suffering from peripheral T-cell lymphoma (PTCL). The FDA has given Duvelisib fast-track status for the treatment of PTCL, which strongly indicates the drug will be available to the public in 2018.
Special Report: Cannabis Is the Gold Rush of the 21st Century - 30 Stocks to Invest in Now. Details Here...
Verastem is also producing a drug called Defactinib, which is made to disrupt the focal adhesion kinase pathway crucial to cancer cell survival and strength. This particular drug could potentially treat pancreatic and ovarian cancers as well as mesothelioma. This drug is at the end of phase 1 trials and is currently entering phase 2.
The gains from these three penny stocks are impressive, which is why investors should add them to their watch list.
But we don't recommend investing in any of them. They've already seen triple-digit gains this year, and our Money Morning experts focus on finding stocks with gains in front of them.
Today, Money Morning Small-Cap Specialist Sid Riggs is giving you one of the best small-cap stocks to invest in for 2018.
This firm operates in the mobile banking transactions market, which is set to grow 716% over the next four years. According to Sid's research, this growth will boost total revenue for the tech firms that make these transactions possible to $865 billion in 2021.
Here's today's pick...
The Best Small-Cap Stock to Buy in the Mobile Banking Market
[mmpazkzone name="in-story" network="9794" site="307044" id="137008" type="4"]
VASCO Data Security International Inc. (Nasdaq: VDSI) is the best way to profit from the rise in mobile banking transactions.
VASCO provides encryption services for companies that offer or use digital and mobile banking. Its most popular services include electronic signatures and mobile app security. The company's 10,000-plus customers include healthcare companies, government agencies, and multinational banks, including BCR, which is Romania's largest bank by clientele.
Sid likes VASCO's main product, DIGIPASS for Apps, which rolled out behavioral, fingerprint, and face authentication in May 2016. By recognizing a person's distinct physical features, DIGIPASS ensures only the intended user can access the banking data. In the past, a hacker could guess a user's password or trick them into divulging it.
This has singled out DIGIPASS as one of the best personal cybersecurity products on the market, even earning a 2017 Global Excellence Award from leading security publication Info Security Products Guide.
The growth of mobile banking will let the company expand its customer base and rake in more profits. Analyst data compiled by Yahoo Finance shows that VASCO's yearly revenue could rise from an expected $185.7 million in 2017 to $192 million in 2018.
This will likely lead to a rebound in the VDSI stock price. Shares are down 7.3% this year to $12.23, as revenue has dipped 8.2% from Q1 to Q2. But we think that makes now a great time to buy at a discount before they climb back up in 2018.
Want to Invest in Weed and Don't Know Where to Start? Well over half of the country already has marijuana legally available in some form. Eight states plus our nation's capital have made it completely legal to anyone over the age of 21. And the marijuana stock market is preparing to take off. Watch this short video and see whether jumping on this moon-bound stock rocket is right for you.
Follow Money Morning on Twitter @moneymorning, Facebook, and LinkedIn.