The top penny stocks to watch in November 2017 include the biggest gainers so far this month. Shares of these companies have handed investors returns as big as 1,020% in less than four weeks.
But these massive returns are all in the past now. After the list, we'll show you our pick for a stock to buy now for its future profit potential. It's a play on "cashless banking," which is an industry poised to grow 716% over the next four years. And this stock is still trading for less than $10 a share...
| | | |
| --- | --- | --- |
| Penny Stock | Current Share Price | October 2017 Return |
| Yulong Eco-Materials Ltd. (Nasdaq: YECO) | $0.56 | +1,020% |
| Endocyte Inc. (Nasdaq: ECYT) | $4.76 | +240.4% |
| Real Goods Solar Inc. (Nasdaq: RGSE) | $2.23 | +156.9% |
| Leading Brands Inc. (Nasdaq: LBIX) | $2.15 | +156.3% |
| Neothetics Inc. (Nasdaq: NEOT) | $1.14 | +142.6% |
| Celsion Corp. (Nasdaq: CLSN) | $3.41 | +127.3% |
| Medical Transcription Billing Corp. (Nasdaq: MTBC) | $3.06 | +108.2% |
| Roka Bioscience Inc. (Nasdaq: ROKA) | $1.39 | +91.8% |
| MannKind Corp. (Nasdaq: MNKD) | $3.98 | +83.7% |
| Alphatec Holdings Inc. (Nasdaq: ATEC) | $4.10 | +80.5% |
The top penny stock of October is Yulong Eco-Materials, which sells environmentally friendly construction and building materials. Shares of Yulong rocketed 1,740%, from $0.05 to $0.92, during the first week of October, when it was relisted on the Nasdaq exchange.
On July 7, the Nasdaq removed Yulong stock from the exchange after the firm failed to submit three separate financial reports. These included its 10-K filing for the year ending on June 30, 2016, as well as earnings reports for Q3 and Q4 2016. The Nasdaq wasn't confident that the company would submit the filings before the Aug. 31 deadline, which is why the Nasdaq delisted the stock.
Editor's Note: Average Americans Are Becoming Marijuana Millionaires. Read More...
But Yulong appealed the delisting by arguing the Nasdaq's action was too rushed since YECO stock was removed from the exchange well in advance of the deadline. The company submitted its late filings before the Aug. 31 deadline, and the Nasdaq said it would relist YECO stock on Oct. 3. Investors immediately bought back in on the news, boosting shares 1,740% during the stock's first week back on the market.
However, just because YECO was just relisted on the Nasdaq doesn't mean it will stay there. The Nasdaq requires Yulong stock to trade at a minimum share price of $1. Since it currently trades at $0.56, the Nasdaq could soon send the firm a non-compliance notice if it doesn't rise above $1 a share.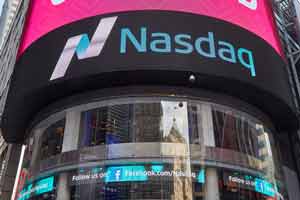 If the Nasdaq delists YECO again, the stock would likely return to trading on a dealer network. These networks are often unregulated and decentralized, since investors buy and sell shares directly from each other instead of on a major exchange like the NYSE or Nasdaq. This would make the stock less liquid, which means investors would have a harder time selling shares and making a profit.
Still, we wouldn't recommend buying YECO stock even if it weren't on the verge of being delisted again. While all of the penny stock gainers on the list have already seen minimum returns of 80.5% this month, we aren't predicting those gains will continue.
Instead of buying a stock that may have already peaked, Money Morning Small-Cap Specialist Sid Riggs is recommending a different stock with future gains in mind. Sid is known for picking winners, with his Neurocrine Biosciences Inc. (Nasdaq: NBIX) pick rising 530.7% since first recommending it in December 2013.
Today's recommendation is one of the most dominant firms in "cashless banking." This is a growing industry in the financial sector focused on mobile banking transactions. These include depositing checks and making direct payments via services like Apple Pay and Venmo.
According to Sid, the total value of these mobile transactions around the world could hit $865 billion in 2021. This would be up 716% from the current value, near $106 billion.
This stock is trading under $10 a share, but it won't be for long...
The Best Small-Cap Stock to Buy in Cashless Banking
[mmpazkzone name="in-story" network="9794" site="307044" id="137008" type="4"]
Our small-cap recommendation today is Mitek Systems Inc. (Nasdaq: MITK).
Mitek develops identity verification software and services that let users safely complete mobile banking transactions like insurance payments and check deposits. These include Mobile Docs, which is used for scanning financial documents, and Mobile Verify, which can be used for validating driver's licenses.
The company has a presence in the exploding mobile transaction market, which is projected to expand by up to 716% through 2021. According to Statista, total revenue for the tech companies making those transactions could be over $865 billion by 2021.
Mitek's continued dominance will not only come from its mobile banking business, but also from its identity services.
"The company is already the world leader in mobile capture and identity verification, so it has a huge first-mover advantage over its competition," Sid said. "It's no surprise, then, that its top line nearly doubled over the last two years."
Mitek's earnings history shows how its profits are growing at such a rapid rate. The company's annual net income staged a massive turnaround in recent years, going from a $5.3 million loss in 2014 to a $1.9 million profit in 2016. Mitek raked in income of $2.9 million - or $0.08 per share - in Q2 2017. That was up from $2.4 million - or $0.07 per share - in the same period in 2016.
Even more attractive is Mitek's projected earnings growth...
Five analysts surveyed by Yahoo Finance expect the firm to post average 2017 earnings per share (EPS) of $0.28. That's more than quadruple the 2016 EPS of $0.06.
Right now, MITK stock still trades under $10 per share, at $8.90 each.
Stocks like Mitek are a great way to "ride" cashless banking's growth to higher and higher profits. Money Morning Chief Investment Strategist Keith Fitz-Gerald has been researching even more aggressive income potential, too. He's found a special class of investments he calls "26(f) programs," which give investors the opportunity to tap into huge monthly income - $2,000... $5,000... or more - every month for the rest of their lives. Click here to learn how it works...
Follow Money Morning on Twitter @moneymorning, Facebook, and LinkedIn.