Buying into the hype of the $3 billion Stitch Fix IPO is a mistake, which is why we had to make sure Money Morning readers know about a better profit opportunity in the online retail sector.
The clothing subscription service is nearing $1 billion in revenue. That's creating hype for the IPO, but this is not where you want to invest your hard-earned money.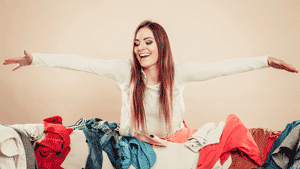 Stitch Fix has a $469 billion competitor it may never defeat, which puts you at risk of losing all of your investment.
However, we still think the right online retail investment can be profitable for long-term investors.
That's why, today, we're going to provide our readers with details on an investment opportunity that has already netted some shareholders gains of 35% so far in 2017...
Avoid the Stich Fix IPO and Still Profit
Stitch Fix is a retail startup making waves in the online fashion world. That's fueling hype for its upcoming IPO, but there are better ways for investors to profit from the online retail sector.
Stitch Fix was founded in 2011 by current CEO Katrina Lake as a clothing subscription service for women.
Customers create a profile and answer questions about their style, size, and budget. Customers are then assigned a personal stylist who matches clothing with their taste.
For a $20 styling fee, the customer will receive five items of clothing. The recipient of the clothing pays for what they keep, and the $20 styling fee is applied to the clothes as a credit. Stitch Fix also sends its customers a prepaid UPS envelope for returns.
Lake has come a long way from first shipping orders out of her apartment in 2011, as Stitch Fix recorded $730 million in revenue for its fiscal year ending July 2016.
But despite the startup's success thus far, it has a major competitor it won't be able to contend with...
Amazon.com Inc. (Nasdaq: AMZN) launched a feature to its Prime members, called "Outfit Compare," on March 17.
Prime members can upload two pictures of themselves in two different outfits through the Amazon shopping app. An Amazon stylist will send a customer a response "a minute later," telling them which outfit looks best, according to TechCrunch report.
Amazon's move into the fashion industry is still in its infancy, but it's the first step toward bigger plans in retail.
TechCrunch speculates Amazon could use the data it collects from its shopping app to make better clothing recommendations for future customers.
And although Amazon just launched the app, it's already a preferred fashion outlet for millennials...
Amazon accounted for 16.6% of U.S. millennial online fashion spending in 2016, according to Statista. In comparison, Stitch Fix only accounted for 3.2% of U.S. millennial online fashion spending.
Stitch Fix will never outsell Amazon, and the only reason to buy Stitch Fix stock would be for speculative investors who hope Amazon will acquire Lake's company and increase the Stitch Fix stock price.
With Amazon's $22 billion in cash as of May, it doesn't need to acquire Stitch Fix. It can simply develop its own brand, just like it's doing with Outfit Compare.
But there are profit opportunities in the e-commerce space...
E-commerce spending is already in the trillions, and retail e-commerce sales worldwide are expected to climb from $1.86 trillion in 2016 to $4.48 trillion by 2021, according to Statista.
Investing in Drones Will Be Like Investing in Smartphones in 2009: If you've thought of drones in military terms or just as toys, this is a wake-up call. Find out more.
That's a 140% increase in just five years.
And before these sales jump triple digits, this is the investment opportunity you need to know about right now...
Buy This Double-Digit Winner Instead of Stitch Fix