After being legalized in 2014, the Maryland medical marijuana program is racing to stake its claim in the $6.7 billion legal North American industry.
Currently, only one dispensary has been licensed in Maryland, according to a Sept. 2, 2017, report by The Washington Post. But there are over 100 prospective dispensaries that have received preliminary licenses and have until December to have employees pass background checks and undergo final inspections.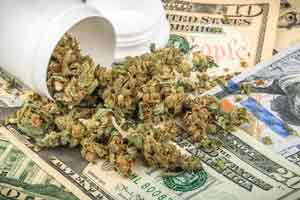 And when Maryland does start selling medical marijuana, it will be a boon for the local economy. From sales and excise taxes on marijuana, NerdWallet.com projects the state government will net $40.5 million per year.
Fortunately, the state government won't be the only one that can cash in on marijuana...
Maryland Marijuana Shows Legalization Is More Than Just a Trend
In 2014, Maryland voted to legalize medical marijuana. Progress has been slow, but the demand has been huge for medical cannabis in Maryland.
Over 13,000 potential patients have signed up to purchase medical marijuana in Maryland, and over 428 healthcare providers have registered to certify potential patients, according to The Washington Post.
Medical marijuana in Maryland won't be sold until some point in 2018, but this demand is creating a $20 billion profit opportunity for Money Morning readers.
Special Report: Cannabis Is the Gold Rush of the 21st Century - 30 Stocks to Invest in Now. Details Here...
Legal cannabis sales in North America in 2016 totaled $6.7 billion. And thanks to states like Maryland legalizing medical cannabis, that number is expected to skyrocket to $20 billion by 2020.
That's a 198% increase in sales in just four years.
Video
These Four Events Will Make Marijuana Investors Rich
And after nine months of exhaustive research, we've found the best, most lucrative, and fastest-growing legal pot stocks in America.
They're all in our 89-page "bible of weed investing," The Roadmap to Marijuana Millions.
Here's how you can get in on the action and potentially turn a small stake into $100,000...
How to Cash In on Pot Stock Profits