The marijuana industry has acquired a powerful new ally: U.S. military veterans.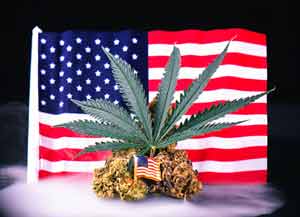 THC Design in Los Angeles, Calif., for example, has created a marijuana cultivation internship specifically for veterans, paying veterans up to $25 an hour - more than twice the state's minimum wage - by the program's end.
This is yet another example of the industry-wide effort to improve marijuana's image in America.
But many veterans don't need an internship to be convinced of the benefits of medical marijuana. It would, after all, eliminate the need for dangerous and addictive opiates issued by VA hospitals.
Federal law, however, still deems cannabis an illegal Schedule I drug. This means the U.S. Department of Veterans Affairs - the program responsible for the majority of veterans' healthcare - is restricted from prescribing medical marijuana to veterans who could otherwise benefit from it.
So now, U.S. veterans are taking action and joining the fight for nationwide legal marijuana.
Here's what they're doing - and how you can profit from the trend that's sweeping the nation...
How Marijuana Is Changing Veterans' Lives
When soldiers returning from duty visit Veterans Affairs (VA) clinics to seek help for physical pain, anxiety, depression, and insomnia, they are almost immediately prescribed opiates and other addictive medications.
In fact, VA prescriptions of four potent opiates - hydrocodone, oxycodone, methadone, and morphine - more than tripled between 2001 and 2013, according to a report by the Center for Investigative Reporting.
And the consequences are undeniable...
In 2016, the VA treated 66,000 ex-servicemen and women for opioid addiction in one year alone.
"It is a travesty," said U.S. Rep. Dana Rohrbacker (R-CA) in a recent speech. "They are given opiates instead of maybe something they can derive from marijuana.... And our veterans end up killing themselves because now they are addicted to an opiate."
Medical marijuana could indeed be a safer alternative for suffering veterans. But since it's illegal under federal law, VA physicians are banned from recommending it. In some cases, veterans who want cannabis could pay out of their own pocket - but advocates say in many states they're unlikely to even hear about it as an alternative, according to an Oct. 18 report from Buzzfeed News.
But now, veterans are trying to increase awareness of - and access to - medical marijuana...
Special Report: Cannabis Is the Gold Rush of the 21st Century - 30 Stocks to Invest in Now. Details Here...
Last spring, the 2-million-member American Legion launched a campaign to reduce marijuana restrictions so that veterans could gain access to the drug for treatment.
"We were hearing these compelling stories from veterans about how cannabis has made their lives better," said Joseph Plenzler, a spokesman for the American Legion, to LA Times. "That they were able to use it to get off a whole cocktail of drugs prescribed by VA doctors, that it is helping with night terrors, or giving them relief from chronic pain."
The legion is calling for marijuana to be reclassified to be included in the same category as legal prescription painkillers. Right now, cannabis sits in the same category as heroin.
The legion isn't the only one calling for change. California lawmakers are also trying to change the way cannabis is perceived by both consumers and the long arm of the law.
Earlier this month, state lawmakers voted on a joint resolution to urge the federal government to reclassify marijuana. The vote was approved 60 to 10.
Here's what reclassification means for marijuana investors...
Weed Investors: Get Ready to Profit
If marijuana is reclassified into a higher-number tier or removed from the list of controlled substances entirely, the implications for the nationwide legal marijuana industry will be massive.
Editor's Note: Don't miss out on the most important marijuana reform updates. Get real-time legalization alerts sent right to your inbox, here.
You see, if pot is rescheduled, it would open the industry to international trade and move the United States toward a nationwide, regulated market.
In other words, it could bring marijuana into the mainstream economy.
Which is all well and good, so long as you've already got stake in the industry. Because once marijuana hits the mainstream, it will be too late.
Take GW Pharmaceutical Plc. (NYSE ADR: GWPH), for example...
GW Pharma produces cannabis-based drugs like Sativex, which helps people suffering from chronic pain related to multiple sclerosis.
The company has a new drug, Epidiolex, coming to market soon. The drug is formulated for the 3 million epilepsy sufferers in the United States (and the 62 million sufferers worldwide). Relief from debilitating seizures would be nothing short of a miracle - and that's exactly what GW Pharma intends to provide.
Following approval, GW Pharma will have exclusive sales rights to the drug for seven years in the United States and 10 years in Europe. This means GW Pharma (and its investors) will enjoy a "first-mover advantage" in the medical marijuana space.
GW has already seen peak returns of over 1,000% in the past three years, and Money Morning Director of Technology & Venture Capital Research - and pot stock expert - Michael Robinson sees it growing another 1,000%, thanks to the growing marijuana industry.
"GW has an unbeatable head start in the race to build drug franchises around the healing powers of cannabis," Michael told his readers on Oct. 12.
And you can bet the reclassification of marijuana will be a major catalyst in that growth.
Marijuana investing is already being called the "Green Rush," and weed investors are pulling in profits hand over fist. As more groups come together to fight for marijuana legalization, the rush is only going to get stronger - and more profitable.
"We're talking about a market likely to top $35 billion in three years," said Michael. "The next wave for this industry will be an exciting, profitable ride."
Indeed, we've already seen marijuana stocks climb 8,875%, 13,900%, and even higher in a matter of months or even weeks. You could profit from these kinds of gains.
That is, if you know how to separate the buds from the duds.
This time last year, Michael published his first "weed investors' bible." At the time, it was packed with 30 of his absolute favorite plays in the still-booming legal cannabis sector.
Over the past year, this section of the Nova-X Report portfolio has seen 10 double-digit winners and eight triple-digit winners... 291% gains... 193.3%... 189.5%; one recommendation even saw peak gains of 1,588%.
Since then, weed investing's only gotten bigger, better, and more profitable - and we're just at the beginning.
Michael wants to make sure Money Morning Members know how to get the latest recommendations and research in his updated Roadmap to Marijuana Millions. He's expecting 2018's profits to top this year's biggest gains, so it'll be released shortly. Click here to learn how to get your copy now.
Follow Money Morning on Twitter @moneymorning, Facebook, and LinkedIn.