Former presidential candidate Bernie Sanders is being coy about running again in 2020, but he did reveal his entire marijuana policy in his new book, "Bernie Sanders Guide to Political Revolution."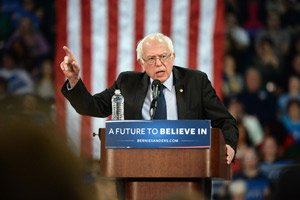 "Eight states and the District of Columbia have already legalized the recreational use of marijuana, and the federal government shouldn't stand in the way of states deciding to regulate it the same way that they do alcohol and tobacco," Sanders said.
Even though he isn't officially running yet, this is welcome news for marijuana stock shareholders. A potential presidential candidate coming out in favor of cannabis legalization is showing how the industry is turning mainstream.
U.S. President Donald Trump's Attorney General Jeff Sessions is totally against marijuana legalization. Even former President Barack Obama believed cannabis should be treated as a public health issue similar to tobacco or alcohol, according to a November 2016 Rolling Stone interview.
But Sanders is being much more aggressive...
Not only is he in favor of states' rights on the issue, but he may even go as far as reclassifying cannabis as a Schedule 1 drug. That's a major step toward making federal policy more marijuana-friendly.
And because cannabis is on the cusp of becoming mainstream, the best way to make long-term gains from cannabis stock is by investing right now...
[Editor's Note: We are a participant in the Amazon Services LLC Associates Program affiliate advertising program designed to provide a means for sites to earn advertising fees by advertising and linking to the above-mentioned site.]
Bernie Sanders' Marijuana Policies Push Cannabis Legalization Further
Right now, American support for marijuana legalization is at historic levels.
According to an Oct. 25 report from Gallup, 64% of Americans think cannabis should be legalized. This time last year, 60% of the country thought marijuana should be legalized.
Of course, most people aren't going to vote for a candidate just because they are pro-marijuana. But the overwhelming support for cannabis legalization shows it will still be an important issue in the 2020 election.
In fact, Canadian Prime Minster Justin Trudeau made cannabis legalization a key part of his 2015 campaign. In a 2016 poll conducted by Nanos Research, a total of 69% of Canadian survey participants supported or somewhat supported legalizing recreational cannabis.
Supporting the will of the people, Canada is set to legalize all marijuana use in July 2018.
And if Sanders were to run again, it could put pressure on other candidates to delist cannabis as a Schedule 1 drug.
Video
These Four Events Will Make Marijuana Investors Rich
Being listed as a Schedule 1 drug, cannabis is considered as dangerous as heroin, LSD, and ecstasy. It also means scientists and medical professionals can't research the potential medical benefits of cannabis.
"But no sane person thinks that marijuana is equivalent to heroin, a killer drug, in terms of its health impact. But that is the way it's treated," Sanders said in his new book.
Reclassifying marijuana would allow for more research, which would could send the stock price for medical marijuana companies skyrocketing.
Special Report: Cannabis Is the Gold Rush of the 21st Century - 30 Stocks to Invest in Now. Details Here...
In fact, one of our favorite medical cannabis stocks has already climbed over 1,000% in the last four years and could climb another 1,000%.
After nine months of exhaustive research, we've found the best, most lucrative, and fastest-growing legal pot stocks in America. They're all in our 89-page "bible of weed investing," The Roadmap to Marijuana Millions. And for a limited time, you can get all the details for free.
Your Chance to Profit from a Marijuana Windfall