Don't blink: The drone revolution is happening.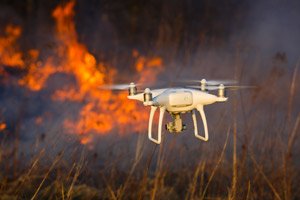 Last year, Money Morning Executive Editor Bill Patalon predicted that drones would one day be used to help American farmers.
Now, that's exactly what's happening.
French drone company Parrot SA (OTCMKTS: PAOTF) is leading the charge in the utility drone space, and you can bet it won't be the only one.
Drones' use as a tool - not just as a toy or a weapon - will unlock massive growth, and you don't want to be stranded on the sidelines.
Check out how vital drones are becoming to everyone from farmers to search and rescue teams. Plus, you'll get an exclusive opportunity to see how you can profit from the fast-growing and indispensable drone industry...
Drones Are Filling Voids We Never Knew Existed
Most people think of drones as being in one of two categories: Toys or warfare.
But now, companies like Parrot are creating drones meant to fill the gap between children's playthings and weapons.
Take farming, for instance. According to the USDA 2016 Census of Agriculture data, the average American farm spans over 442 acres.
Of course, with that kind of acreage, it's almost impossible to monitor everything at once.
Crops could die or get eaten, and livestock could wander off or be stolen - all while the farmer has no idea.
In fact, tens of thousands of livestock are stolen from farms each year, according to a 2014 report by The Guardian. For already hard-pressed farmers, losing livestock can affect livelihoods. Even if the animals are insured, the farmers still face rising premiums. In some cases, "the insurance can cost so much money that it's not worth it," according to the report.
Luckily for farmers, image-capturing drones can put an end to the thievery.
Parrot's new "Bluegrass" drone, marketed toward farmers with mid-size crops, is small enough to fit in a suitcase but powerful enough to fly for almost a half hour on just one charge. Not only can the drone take photographs and live footage of the crops from an aerial view, but it can also evaluate the plants and tell a farmer if the crop is healthy.
And of course, it can keep an eye on the livestock, as well.
Drones like this are going to be huge for the agricultural industry.
"There are 2.1 million farms that can be better mapped and managed with smarter drones," said Bill.
And the utility of drones goes beyond agriculture. Parrot's other new mid-range professional drone, the "Bebop-Pro Thermal," could potentially save countless lives.
Don't Get Left Behind: This Drone Company Could Net You Massive Gains. Learn More...
Outfitted with a custom thermal camera, the Bebop has the potential to help first responders after a natural disaster, like the recent northern California wildfires. You see, after a natural disaster like widespread fire, the drone can fly over devastated areas and feed live images back to an app. The images can identify hot spots, like the heat given off by a survivor.
Video
3 Ways Drones Are Changing the Way We Do Business
"The $1,500 Parrot Bebop-Pro Thermal is ideal for construction, inspection, and public safety workers. In addition to search and rescue, its two cameras can be used to see where heat is escaping from a roof, or what areas are still too hot after a fire," reported CNN Money on Oct. 10.
And Parrot isn't alone in using drones this way. In fact, General Electric Co. (NYSE: GE) recently began using drones to monitor power lines - effectively keeping workers out of harm's way.
As drones continue to make businesses safer, stronger, and smarter, select drone developers are going to see a huge boon. And that means you want to get in now - before the rush...
Now Is the Time for Investors to Strike
"The fact is that the drone trend is too big, too powerful, and too global in scope to stop," said Bill to his Private Briefing subscribers earlier this week.
Bill's our champion stock picker here at Money Map Press - and for good reason.
He's spent three decades digging into the financial markets as an investigative journalist for The Baltimore Sun and Kiplinger's. He's even been nominated for two Pulitzer Prizes.
So, it's no surprise Bill's Private Briefing subscribers had the chance to stake their claim of the global drone boom very early on.
And they've seen huge gains...
In fact, all five of Bill's "drone boom stocks" have soared.
But he's never seen a stock as potentially lucrative as this one...
Bill's looking at a new development involving the Pentagon that could lead to $127 billion in new wealth for early investors.
Here's everything you need to know about how you could pocket $115,900 from the next frontier in flight.
[Editor's Note: Take advantage of our free service that delivers all the latest drone and tech news right to your inbox. No more waiting. No more searching. No more missing out. Sign up for real-time profit alerts in one easy step now.] 
Follow Money Morning on Twitter @moneymorning, Facebook, and LinkedIn.