It's been 30 years since "Black Monday," and we're seeing stock market crash warnings that history could be repeating itself...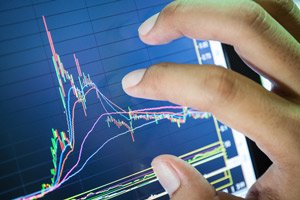 With the 30th anniversary of the crash of 1987 still fresh on everyone's minds, Money Morning Capital Wave Strategist Shah Gilani told our readers the next crash could be even worse.
Now, Gilani is not predicting a stock market crash. However, we want our readers to be prepared for anything.
And this stock market crash warning sign is sending a signal that smart investors should have a plan...
Why Today Is Looking a Lot Like 1987
On Oct. 19, 1987, the Dow Jones Industrial Average plummeted 22%. That one-day drop, the largest in U.S. history, became known as "Black Monday." Now, three decades later, there is the potential for another huge drop.
Right now, Gilani sees a few parallels to the market conditions that ended with the market crash in 1987. They include a new breed of Wall Street "products" rife with potential unintended consequences. Combining these products with a lack of regulation could be brewing the perfect storm.
The current bull run has seen the Dow gain more than 250% since March 2009. The bull market ahead of the 1987 peak saw only a 160% gain. And leading up to the crash, stock prices outpaced earnings growth in a very similar pattern to what we see today.
Urgent: Feds use obscure loophole to threaten retirees. If you have a 401(k), IRA, or any type of retirement account, this could cause you to miss out on $68,870 or more. Learn more...
In the 1980s, we saw an influx of investors enter the market, primarily through pension funds and retirement accounts. Today, after years of sitting on the sidelines, individual investors are finally returning to the market with index funds and exchange-traded funds (ETFs).
In 1987, favorable tax treatment for corporate buyouts boosted share prices. Today, the hope for tax cuts, cash repatriation from overseas, and accelerated depreciation scheduling are boosting share prices. The Dow scored 68 record-high closes just since the election.
Commentators back in the late 1980s called the market "overvalued." And they say the same thing today.
"It's clear that conditions are eerily similar," Gilani said.
And with investors flooding the market with index funds, the major Wall Street hedge funds are taking a lot more risk through index arbitrage...
What Could Cause the Next Stock Market Crash
Portfolio insurance and index arbitrage are widely blamed for the speed and depth of the Black Monday sell-off.
In theory, these trading techniques should provide good risk control for traders. However, when stressed to the extremes seen that day, they broke down. They actually caused more risk than they saved.
In today's market, there are infinitely more index products, and index arbitrage is now systemic. And portfolio insurance is packaged in retail products that exist completely outside what investors have in their portfolios and that aren't even connected to the stocks they think they insure.
The products you own, the products hedge funds own, and the products central banks own are all the same. Everyone thinks they are protected, but they are not.
But in 1987, Congress' decision to end a policy that made mergers and acquisitions profitable helped push these index arbitrage strategies to their breaking point. We could see a similar negative catalyst if Congress fails in its bid to make the tax code more beneficial to businesses.
That doesn't mean a market crash in 2018 will happen, but smart investors know the Dow's record-breaking bull run won't last forever. That's why having a plan to protect your money is always a good idea...
Have a Plan to Protect Your Wealth
Smart investors always have a plan to prepare for a stock market crash.
In fact, stock market crashes are devastating because most investors are rarely prepared for a major pullback. You see, the timing of a stock market crash is impossible to predict with any degree of certainty.
But that does not mean investors should flee the stock market. Avoiding the market out of fear is actually one of the biggest mistakes you can make, because the stock market is one of the greatest wealth generators we have.
Instead, there strategies that you can use to keep your money safe.
Here are strategies from four Money Morning gurus to protect your money during a stock market crash - and profit, too...