Alphabet (GOOGL) doesn't seem like your typical growth stock, considering it opened at $1,030.99 this morning (Oct. 27, 2017). But Wall Street is overlooking the explosive potential our tech guru sees…
Money Morning Director of Technology & Venture Capital Research Michael A. Robinson believes Alphabet Inc. (Nasdaq: GOOGL) has $48 billion in new yearly hardware sales ahead of it thanks to the Pixel 2 smartphone launch.
Even with this new revenue source just launching in October, Alphabet announced a double-digit sales increase in its Q3 2017 earnings report yesterday (Oct. 26). The GOOGL stock price is up 5.94% today thanks to its earnings report.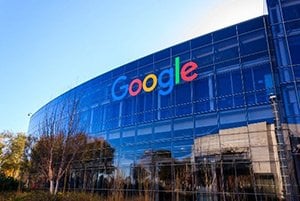 That came as no surprise to us.
"With a market cap of $686.10 billion, the stock trades at roughly $1,001 a share – and still has plenty of upside ahead," Robinson said on Oct. 23.
Now, Robinson estimates Google can add $48 billion in new yearly sales, and that's just the beginning of what Google is planning…
Alphabet (GOOGL) Crushes Its Q3 2017 Earnings Report
Alphabet announced its Q3 2017 results yesterday (Oct. 26) and handily beat Wall Street's expectations.
Analysts expected earnings per share (EPS) of $8.33 on $27.2 billion in revenue. Instead, Alphabet reported $9.57 on $27.7 billion.
That's a 24% increase in sales year over year (YoY).
Google lumps its revenue into advertising and "other revenue," which includes its cloud business and hardware sales.
Google's "other revenue," which includes hardware, only totaled $3.45 billion out of $27.2 billion in Q3 2017.
That's only 12% of total revenue.
That's why the mainstream media are still just focusing on Google's ad and search business and are totally overlooking what's about to happen.
You see, a $48 billion increase in new hardware sales is an additional $12 billion per quarter, just from one piece of hardware. That would have pushed Google's total revenue to $39.7 billion this quarter, and that would have accounted for 30% of total revenue.
Free Book: The secrets in this book helped one Money Morning reader make a $185,253 profit in just eight days. Learn how to claim your copy here…
If a 24% jump in revenue sent the stock soaring today, imagine what adding another 30% increase would do.
But as we said before, that revenue increase isn't the only reason we're following the Pixel's sales.
Fortunately for Money Morning readers, Robinson knows the real story behind what Google's planning, including what that could mean for Google stock's share price…
This Alphabet (GOOGL) "Trojan Horse" Is Creating Double-Digit Gains