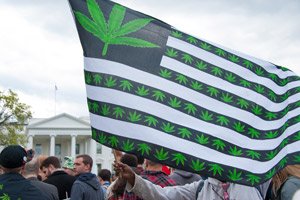 Public opinion of legal marijuana is rapidly improving.
In fact, Gallup's most recent poll showed a record-high percentage of Americans now support legalizing marijuana: over 64%.
This marks the highest level of public support in history since the contentious topic was first measured nearly five decades ago. In 1969, only 12% of Americans surveyed were in favor of legalization. Now, that number has quintupled.
But here's the most critical finding…
While most Americans have consistently supported legal marijuana since 2013, this is the first time that Gallup has recorded a majority in Republican support for legalization.
Here's what that means for the marijuana industry's future – and for your money…
Even Republicans Think Marijuana Should Be Legalized
When you look back at Gallup's historical polls, Democrats and independents have been more likely to express their support for marijuana legalization. This year was no different. An overwhelming 72% of Democrats and 67% of independents voted "yes" to legal marijuana.
But now, more Republicans are jumping aboard the legal marijuana train. A whopping 51% percent of Republicans told Gallup that marijuana should be legal, up from 42% last year.
What's more, Republican support is accelerating. Legal marijuana support from Republicans grew 21% between 2004 and 2016, but leapt 9% just this year.
Even Republican legislators are publicly showing their support…
"I know that medical marijuana can do some things that other medicines can't. I'm for alleviating pain and helping people with illness," said Sen. Orrin Hatch (R-UT) to Rolling Stone in September.
Special Report: Cannabis Is the Gold Rush of the 21st Century – 30 Stocks to Invest in Now. Details Here…
Hatch is no average senator. As Senate president pro tempore, he is third in line to the presidency behind Vice President Mike Pence and Speaker of the House Paul Ryan. Make no mistake: His words have weight.
Republicans – both citizens and their representatives – have for decades been staunchly against any form of marijuana legalization.
So what has changed? State-level legalization.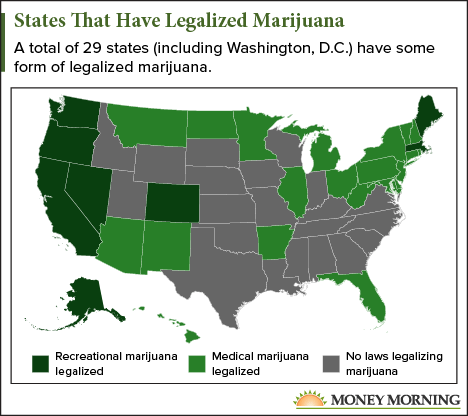 Well over half the country now has legal marijuana laws in place – either for medical use or recreational. Last year, Ohio, Florida, North Dakota, Arkansas, and Pennsylvania legalized medical marijuana, Illinois decriminalized it, and California, Nevada, Maine, and Massachusetts legalized recreational marijuana.
Now, almost a quarter of U.S. citizens now live in states where recreational marijuana use is legal.
"As efforts to legalize marijuana at the state level continue to yield successes, public opinion, too, has shifted toward greater support," said Gallup's Justin McCarthy in the report.
And now that at least 51% of every major political party supports the legalization of marijuana, we expect to see sweeping legislative changes in 2018.
In fact, we're already starting to see them…
2018 Will Be a Whirlwind Year for Marijuana Investors
As support for legal marijuana continues to pour in across the country (and the world), marijuana investors are raking in profits hand over fist.
But the profit-taking is far from over…
"I'm expecting four watershed events in marijuana to happen over the next 365 days," said Money Morning Director of Technology and Venture Capital Research Michael A. Robinson.
"And I want to make sure everyone has the chance to deploy their capital when these upcoming events come to pass," said Michael. "We're looking at some massively profitable outcomes here."
Michael is our pot stock expert here at Money Morning – and for good reason.
Michael's long been an investor in the legal cannabis space. And his track record is impressive.
For the last eight months, Michael and his team have dedicated thousands of man hours and over $250,000 toward the most exhaustive analysis of the marijuana industry to date.
He's met with leading growers, dispensaries, angel investors…
And he's vetted the next generation of weed stocks poised to make marijuana investors rich.
But he's not done with the marijuana sector – not even close…
In fact, he's now looking at four key events on the horizon that could lead to even more profits for investors:
California's upcoming legal marijuana declaration
Canada's total legalization of marijuana
Increase of cannabis-based treatments from top pharmaceutical companies
Major convergence of cryptocurrencies and legal cannabis
And you can bet each and every one of these events will be a boon to the marijuana industry.
Indeed, we've already seen what legalization can do for the industry.
Just last year, legal pot sales rose a stunning 34%, to $6.7 billion, across North America, according to Arcview Market Research. What's more, that figure should surpass $8 billion by 2018 and reach $22.6 billion by 2021.
That works out to a 27.5% yearly growth rate.
And Arcview Market Research CEO Troy Dayton, with whom Michael recently met, says a compound growth rate of more than 20% a year will continue "for many years past 2021 as more states and countries legalize cannabis."
This means marijuana investing will be profitable for investors year after year.
We've seen firsthand how impressive the gains can be. This time last year, Michael released his "weed investor's bible," The Roadmap to Marijuana Millions. At the time, it was packed with 30 of his absolute favorite – and most profitable – plays in the still-booming legal cannabis sector.
Money Morning Members who received a copy of Roadmap saw 10 double-digit winners and eight triple-digit winners… 291% gains… 193.3%… 185.5%; one recommendation even saw peak gains of 1,588%.
But it's not too late – and the gains are far from over…
Michael's releasing his updated Roadmap to Marijuana Millions exclusively to Money Morning Members right now – so you still have time to profit.
Click here to reserve your copy.
Editor's Note: Stop missing out. Never miss a single marijuana industry update again by taking advantage of our new complimentary service, Profit Alerts. Sign up to get real-time marijuana industry news sent directly to your inbox when you need it most, here.
Follow Money Morning on Twitter @moneymorning, Facebook, and LinkedIn.