(Kitco News) – World stock markets were mostly firmer overnight, on generally upbeat corporate earnings that were reported late this week.  U.S. stock indexes are pointed toward firmer openings when the New York day session begins.
Gold prices are slightly lower and hit a three-week low overnight, amid a lack of risk aversion in the marketplace. Gold and silver bears have downside technical momentum.
The currency markets are still feeling the effects of Thursday's European Central Bank monetary policy meeting, which resulted in no interest rate changes from the ECB. However, the central bank said it is reducing its monthly bond-buying program amount by half, but is extending the timeframe of the bond buying. ECB Chief Mario Draghi's press conference sounded a dovish tone on monetary policy, which has pressured the Euro currency to a three-month low Friday morning. Meantime, the U.S. dollar index pushed to a three-month high Friday. The marketplace is a bit unsettled by the appearance of U.S. Federal Reserve monetary policy and ECB monetary policy that are diverging.
Traders and investors are awaiting what is the most important U.S. economic report of this week: Friday morning's advance third-quarter GDP estimate. The number is expected to come in at up 2.7% versus the second-quarter reading of up 3.1%.
The other key "outside market" on Friday morning finds Nymex crude oil futures prices slightly lower and trading above $52.00 a barrel. Oil prices remain in a near-term uptrend.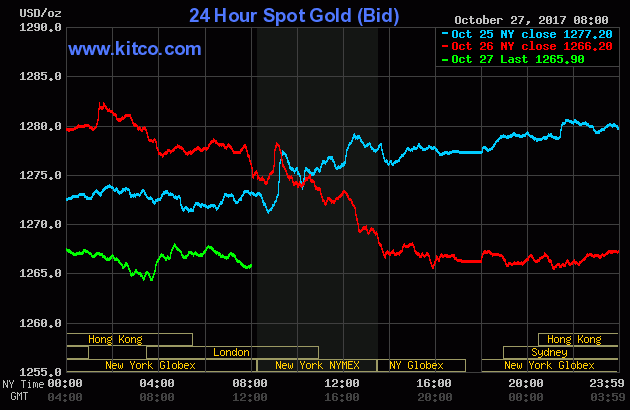 Other U.S. economic data due for release Friday includes the University of Michigan consumer sentiment survey.
By Jim Wyckoff, contributing to Kitco News; jwyckoff@kitco.com