The top marijuana penny stock to watch in 2018 has already returned quadruple-digit gains this year. In fact, shares of this company have exploded a massive 4,000% since Jan. 1.
But we're not recommending you buy this marijuana stock. Its 4,000% gain means it currently trades at a high price, meaning there's the possibility that it may not have much more momentum left.
Instead, we're going to show you one of Money Morning Director of Technology and Venture Capital Research – and marijuana investing expert – Michael A. Robinson's favorite pot stocks to buy for 2018. It's a pioneering company in the hydroponics industry, which is set to reach over $24 billion next year.
Before we show you this must-own stock, here's more on the biggest marijuana penny stock gainer of 2017 so far…
This Is the Top Marijuana Penny Stock to Watch in 2018
The best-performing cannabis stock of 2017 is Sprout Tiny Homes Inc. (OTCMKTS: STHI). It's a construction company in Colorado that builds both cannabis greenhouse facilities and small, energy-efficient "tiny homes." These are often up to 400 square feet and are attractive for their affordability, environmental efficiency, and simplicity.
The company's tiny-home business is responsible for its quadruple-digit return this year. Shares of STHI stock are up 4,000% since Jan. 1 and even exploded 12,400%, from $0.02 to $2.50, during Q1 alone after the firm received approval to build a 200-tiny-home community in Salida, Colo. This community is expected to be the United States' biggest tiny-home development.
BREAKING: New Legislation Could Turn Tiny Pot Stocks into Millions. Click Here…
Sprout Tiny Homes will stay on our watch list as the Salida development reaches completion. The tiny-home community is expected to be completed sometime in 2018, and STHI shareholders could react to any news surrounding the construction progress.
Although STHI stock has seen a quadruple-digit gain this year, we don't recommend buying shares right now. Our Money Morning experts look for stocks that are set for gains ahead of them rather than behind them.
Today, Michael is providing a marijuana stock poised to surge next year.
Although his recommendation isn't a marijuana penny stock, the company is considered the leading pioneer of the marijuana industry's fastest-growing sector – hydroponics.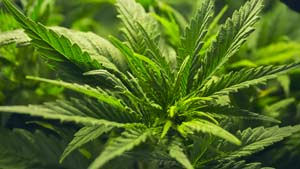 Hydroponics involves growing marijuana in nutrient- and mineral-rich water. This method has been revolutionary in the cannabis industry since it doesn't use soil, which has traditionally been critical to the cultivation process.
"This means no mess and, more importantly, no pesticides," Robinson said. "That's a key consideration for green consumers."
Research firm Manifest Mind reports the global value of all hydroponically grown plants was $19.95 billion in 2015. That value is expected to rise 20.3%, to $24 billion, in 2018.
Michael's pick – which has traditionally sold gardening products – was one of the first firms to bet on the hydroponics sector's growth. It bought a hydroponics firm two years ago, in what was then the company's most expensive acquisition in 17 years.
While news outlets called the acquisition "controversial," Michael's pick has been making a killing ever since. Bloomberg reports this company's revenue from the hydroponics sector alone could grow 300% over the next few years.
And by buying shares of the company, you could make money from its continued dominance in the hydroponics industry…
One of the Best Marijuana Stocks to Buy for 2018