Recreational marijuana sales will be legal in the Golden State in January 2018, and one California marijuana stock is poised to cash in on the coming $5 billion windfall...
All cannabis use is legal in California right now, but dispensaries can't sell recreational marijuana just yet.
But when dispensaries in the state can sell both medical and recreational marijuana, the legal California cannabis market will be worth $5 billion annually. That's according to a study released on Feb. 23, 2017, by the University of California Agricultural Issues Center.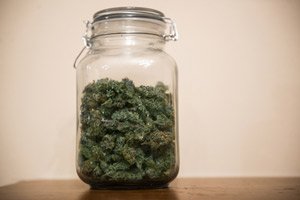 With legal marijuana sales in the United States and Canada expected to total $20 billion by 2020, California alone could account for 25% of all legal cannabis sales in North America.
Fortunately for Money Morning readers, it's not just California dispensary owners who will profit from the $5 billion industry - you can, too...
The One California Marijuana Stock to Watch in 2018
Since June, we've been updating our readers about one marijuana stock in California.
Now, it's true the stock price for this pot stock has been volatile. It has traded for a low of $0.14 and a high of $0.54 in the past 52 weeks.
Today, it opened at $0.18 per share.
Video
These Four Events Will Make Marijuana Investors Rich
And as we always tell our readers, cannabis stocks are not for risk-averse investors. Cannabis is illegal under federal law, which makes pot stocks speculative investments.
But for long-term investors who understand the risks, we had to make sure you knew about this California marijuana company before sales really take off.
Special Report: Cannabis Is the Gold Rush of the 21st Century - 30 Stocks to Invest in Now. Details Here...
Some marijuana stocks are already seeing triple-digit gains of 224%... 378%... even an exceptional 751%.
And because this California cannabis company plans to become the "Starbucks Corp. (Nasdaq: SBUX) of weed," we had to make sure you knew about it now before January 2018.
Here's everything you need to know about the company and how to stake your own claim in the $5 billion statewide windfall that's about to happen...
How to Cash In on the Future $5 Billion California Marijuana Industry