Here are five drone stocks to watch in 2018, including stocks with gains as high as 67% on the year so far. But that's just the beginning. The drone industry is creating $127 billion in new wealth for early investors, and we'll show you how you can be a part of that, too...
Company
Stock Symbol
Today's Price
YTD Return

(Oct. 31)

Ambarella Inc.
AMBA
$55.00
+1.13%
Boeing Co.
BA
$259.34
+66.53%
Kratos Defense
KTOS
$11.97
+61.35%
Northrop Grumman
NOC
$296.99
+27.43%
Textron Inc.
TXT
$52.66
+8.32%
These drone stocks to watch were selected because they are all in the defense sector or make drone equipment that can be used for defense.
In 2016 alone, the U.S. defense budget allocated $4.61 billion for drone-related spending. Hobbyist drones can cost as low as $99.00 per drone.
We're focusing on the defense sector because the military spends more on drones than hobbyists. These companies simply have more opportunity to grow their revenue than drone manufactures that focus on just hobby drones.
The Federal Aviation Administration (FAA) projects all drone sales will climb from 2.5 million in 2016 to 7 million by 2020.
That's an increase of 180% in sales in just four years.
The companies mentioned above are going to cash in on the drone craze over the next three years.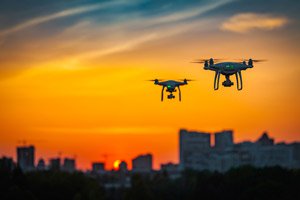 However, investors also have a chance to stake their claim in the $127 billion in new wealth being created in the drone market as we speak.
We're going to get to your next profit opportunity in just a bit.
But first, here's a quick background for each of the drone stocks we mentioned above...
Drone Stocks to Watch in 2018 Includes Two Defense Giants  
Sign up for SMS so you never miss special events, exclusive offers, and weekly bonus trades.
Ambarella Inc. (Nasdaq: AMBA) is a play on the drone industry through its high-tech camera technology.
While the company doesn't make their own drones, they do offer features that all drone users - especially the military - need. The company offers advanced features for drone users like live video streaming, which helps the military and defense contractors survey hostile areas in real time without risking lives.
Boeing Co. (NYSE: BA) is a $154 billion defense giant that just placed a big bet on the drone industry.
Boeing is acquiring (for an undisclosed amount) Aurora Flight Sciences Corp., a company that specializes in unmanned aerial vehicles, according to an Oct. 5 Arstechnica.com report. Aurora has worked for NASA and the U.S. military, and it also has a contract to develop a "flying car" for Uber.
Boeing initially developed its own drone called the "Phantom Eye," but it was dissembled and transferred to the Air Force Flight Test Museum because it's now obsolete. But Boeing wants to continue making drones, and the Aurora acquisition could help Boeing create a new generation of Phantom Eye unmanned vehicles that lands the defense firm a big contract.
Investing in Drones Will Be Like Investing in Smartphones in 2009: If you've thought of drones in military terms or just as toys, this is a wake-up call. Find out more.
Kratos Defense & Security Solutions Inc. (Nasdaq: KTOS) is a defense contractor founded in 1994 that now has an unmanned systems division.
The company announced today (Oct. 31) that it just received a $14.5 million contract for eight unmanned aerial drone systems from "national security-related customers." Outside of Boeing, it's been one of the best-performing drone stocks, with 61% gains so far in 2017.
Northrop Grumman Corp. (NYSE: NOC), a $51.6 billion defense giant, sells a multi-mission unmanned aircraft system known as "Bat."
Northrop's drone product line can be used for surveillance, reconnaissance, target acquisition, and communications relay.
The NOC stock price has climbed 27% so far in 2017, and more market-beating gains should be on the way as Northrop nabs more military contracts.
Textron Inc. (NYSE: TXT) was founded in 1923 and develops more than just drones.
The company operates in the aircraft, defense, industrial, and finance industries. This makes it diversified in case one sector has a slowdown in orders.
It also has an "unmanned surface system." In civilian terms, it's an unmanned boat that can be used to scan for mines and other objects, keeping humans out of harms' way. In other words, it's creating the next generation of marine drones for military use.
We're continuing to keep an eye on these drone stocks since we're bullish on the drone industry across the board. But there's an even better profit play for early investors in the drone industry...
The jump from 2.5 million drone sales in 2016 to 7 million by 2020 is a bullish catalyst for the stock price of all of these companies. As revenue climbs from the increase in drone sales, investors will flock toward these stocks.
And as the demand climbs, the stock price can climb too.
That's why drone expert and Money Morning Executive Editor Bill Patalon wanted to make sure our readers knew about a profit opportunity being created right now in the drone market.
In fact, it's beyond anything he could have imagined, and he's never seen a story as potentially lucrative as this one.
And that's saying a lot, considering his distinguished career...
Drone Stock Expert Bill Patalon Just Uncovered Your Next Profit Opportunity