Investors are asking, "Should I invest in the Uber IPO?" now that new CEO Dara Khosrowshahi is pushing his company to go public as soon as possible…
Khosrowshahi is being optimistic and wants an Uber IPO date set for as early as 2019.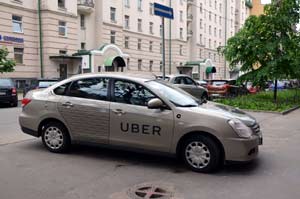 But there are still many challenges facing the ride-hailing company before an official Uber IPO date is set.
Not only does Khosrowshahi have to completely change Uber's culture, he's also tasking himself with making Uber profitable before Uber goes public.
Here's everything you need to know about the challenges the new Uber CEO is facing and what it means for retail investors who want to buy Uber stock…
Scandals Will Delay the Uber IPO
Uber has been in the news throughout 2017 for all the wrong reasons.
From deceiving regulators to claims of company-wide sexual harassment, scandal after scandal has sidetracked the company from going public.
Energy Breakthrough: One gallon of this new "crystal fuel" could get you from New York to L.A. and back… seven times! Read more…
The bad news continued right before Uber hired Khosrowshahi as CEO at the end of August. Uber had knowingly leased unsafe cars to its drivers in Singapore, according to an Aug. 4 NPR report.
One of the cars caught on fire and melted the interior while a driver was in the car. Fortunately, the driver was unharmed.
But overcoming scandals isn't the only roadblock in the way of the Uber IPO. Khosrowshahi wants to make the company profitable before the Uber IPO date is set. He has a long way to go, as the company lost $2.8 billion in 2016.
Video
Who Is Dara Khosrowshahi?
And Uber is on track to lose $2.7 billion in 2017.
But if Khosrowshahi can lead Uber past its scandals and make it profitable, is this an IPO you should invest in?
Here's the answer, plus a way to make money before the Uber IPO date that you can't afford to miss…
How You Can Profit Ahead of the Uber IPO