If you've been following along, you've known that marijuana legalization is a modern-day gold rush for well over a year.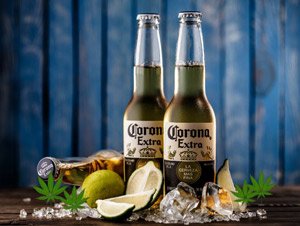 Now, the CEOs are beginning to catch up.
Constellation Brands Inc. (NYSE: STZ), which owns popular beer brands like Corona, just bought a 9.9% stake in the largest publicly traded legal marijuana company: Canopy Growth Corp. (TSE: WEED).
The $191 million deal gives Constellation some traction in an industry that the distributor expects to take off within the next few years.
"We're obviously trying to get first-mover advantage," said Constellation's CEO Rob Sands to The Wall Street Journal on Oct. 29. "We think that [nationwide marijuana legalization] is highly likely, given what's happened at the state level."
Indeed, 29 states and Washington, D.C., all have some form of laws governing legal marijuana. And six more states are set to legalize next year, bringing the grand total to 35 states.
But Constellation doesn't just want to profit from the industry's imminent success…
It wants to be a part of it. Here's how…
Constellation's Plan to Master the Marijuana Industry
U.S. beer industry executives and analysts have long been worried about legalized marijuana and its effect on the sales of beer – and they should be.
Last November, research firm Cowen & Co. conducted a study in Colorado, Oregon, and Washington – all states where recreational weed is legal – to measure the effects of legal weed on beer sales.
"With all three of these states now having fully implemented a [marijuana] retail infrastructure, the underperformance of beer in these markets has worsened over the course of 2016," the researchers wrote. Moreover, sales volumes in those three western states were found to lag "meaningfully" behind the growth seen nationally.
"We think that [nationwide marijuana legalization] is highly likely, given what's happened at the state level."
But while other brewers are biting their nails, Constellation is thinking outside of the box.
"Could it be a threat? Yes, I guess it could be," said Sands to WSJ. "We're not going to stand around twiddling our thumbs."
Constellation is planning to use its new 9.9% stake in Canopy Growth Corp. to develop, market, and sell cannabis-infused beverages.
The company is interested in developing drinkable cannabis products that don't contain alcohol, according to Sands. The products would be alongside others currently on the market in U.S. states where they are legal, like cannabis-infused sodas, coffees, and fruit elixirs.
Special Report: Cannabis Is the Gold Rush of the 21st Century – 30 Stocks to Invest in Now. Details Here…
While the company awaits nationwide legalization in the United States, it will develop and sell these products to countries that have already legalized marijuana and Canada, which is expected to fully legalize cannabis next year.
Canopy Growth Corp. is getting something out of the deal, too.
According to WSJ, Canopy Growth CEO Bruce Linton said Constellation's expertise in alcohol distribution would be helpful for the cannabis company as it determines how to distribute and package recreational cannabis.
Moreover, Linton said he hoped the deal could be the turning point for the nascent industry, signaling to institutional investors "that a cannabis company that fully complies within legal jurisdictions would be the right place to invest."
We already knew that.
Money Morning Director of Technology and Venture Capital Research Michael A. Robinson recommended Canopy to his Nova-X readers on Sept. 2, 2016, when the stock was trading for $3.81 Canadian.
Fast forward to today: Constellation just paid nearly four times as much, at $15.22 per share.
That means readers who got in at Michael's recommendation and held until now have enjoyed a 399% gain in a little over a year – and it also means Michael is about 14 months ahead of the CEOs.
We love fast-growing marijuana stocks. But there's another great way to profit in the marijuana industry, called a "pick-and-shovel" play. By investing in a company that is supporting the industry as a whole, you're making a relatively secure, stable investment while also benefitting from the rapid growth driving the marijuana sector.
Here's a perfect example…
This Is the Perfect Time to Own Our Favorite "Pick-and-Shovel" Weed Play
"Just like in the 19th century, 2017's "pick-and-shovel" cannabis plays will mint millionaires," said Michael on Aug. 2.
Michael recently attended the fourth annual Cannabis Business Summit and Expo in Oakland, Calif. To his surprise, the hottest profit trend on display at the expo wasn't growers, or dispensers, or even edibles, but compliance.
"Many pot entrepreneurs lack the knowledge and experience necessary to comply with all state and local regulations, from employment and labor laws to inventory control and everything in between," said Michael. "So now, entrepreneurs are turning in droves to the one company that can make it all easy for them…"
We're talking about Microsoft Corp. (Nasdaq: MSFT).
Microsoft has found an ingenious way to capitalize from the legal cannabis sector.
The company has marketed its cloud-based services heavily to marijuana entrepreneurs, and it's beginning to pay off. In fact, its Azure cloud service banked $6.7 billion in the most recent quarterly reports.
Since Michael's recommendation, MSFT has gained 12.2%. The stock is currently up 39% just this year.
Michael advises accumulating a bigger position while prices are low, and since MSFT is still riding its 8.7% jump after last week's earnings report, most investors will want to hold off for now.
Fortunately, it's not too late to get in on the budding marijuana industry before the crowd. Michael's discovered 30 of the best pot stocks to buy today before the new year…
These 30 Pot Stocks Are Set to Soar
Michael is our pot stock expert here at Money Morning – and for good reason.
Over the past year, Michael's legal marijuana stock recommendations included 10 double-digit winners and eight triple-digit winners… 291% gains… 193.3%… 185.5%; one recommendation even saw peak gains of 1,588%.
We're not telling you this to brag. We're telling you this because, in order to find these absolute best pot stocks to buy, he had to screen hundreds of companies using extensive, rigorous criteria and analysis.
For the last eight months, Michael and his team have dedicated thousands of man hours and over $250,000 toward the most exhaustive analysis of the marijuana industry to date.
He's met with leading growers, dispensaries, angel investors…
And he's vetted the next generations of weed stocks that are poised to make marijuana investors rich.
In fact, he's now looking at four key events on the horizon that could lead to another round of impressive triple-digit gains.
They're all in his 89-page "bible of weed investing," The Roadmap to Marijuana Millions. And for a limited time, you can get all the details for free. Go here to find out how to reserve your copy today…
Follow Money Morning on Twitter @moneymorning, Facebook, and LinkedIn.