A stock market crash in November 2017 might seem unlikely considering the Dow just had its best month ever. In fact, the Dow just climbed 4.6% in October.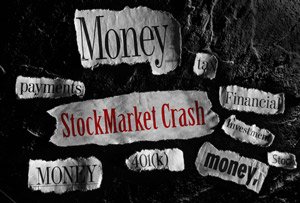 But not all market indicators are positive right now, and smart investors always have a plan to protect their money in case disaster strikes.
Now, we aren't making a stock market crash prediction. We even think the market has room to run higher. But we want Money Morning readers to be completely informed, especially on the stock market crash warning signs the media aren't talking about.
Here's what could cause the next stock market crash and what you can do to protect your money…
What Could Cause a Stock Market Crash in November 2017
We're following two signs that could lead to a market correction, or even a crash, in November 2017, or even in 2018.
First, stocks are reaching historically high valuations.
Since March 2009, the DJIA has risen more than 220%. Those gains have come during the second-longest bull market in its history.
But stock prices have also shot up even as corporate earnings haven't. That means stocks are more expensive relative to each company's performance.
One of the best measures of stock market valuations is the Shiller P/E ratio, or CAPE ratio. Right now, it's at 31.8, 89.3% higher than its historical average.
And that's important.
Urgent: Feds use obscure loophole to threaten retirees. If you have a 401(k), IRA, or any type of retirement account, this could cause you to miss out on $68,870 or more. Learn more…
The only other times the Shiller P/E ratio has risen higher than it is today came in 1929 and 1999. The stock market crashed both times.
Now, that doesn't mean the stock market is going to crash again. But it means investors can't afford to be complacent, even if stock prices are soaring.
That's especially true now that the U.S. Federal Reserve is raising interest rates…
Second, low interest rates have helped boost stock prices, but that's ending soon.
During the Great Recession, the Fed acted to boost the economy using the tools at its disposal.
Between 2007 and 2008, the Fed slashed interest rates from above 5% all the way down to 0.25%, its lowest rate ever. Low interest rates made borrowing money cheap, and the Fed hoped cheap borrowing costs would stimulate economic growth.
While companies took advantage of the cheap borrowing costs, they used it to repurchase shares of their own stock. Between 2009 and 2016, publicly traded firms borrowed $1.9 trillion, while they spent $2.1 trillion repurchasing shares of their stock.
That's part of what's fueled the Dow's 220% gain since the recovery began in 2009.
Just Released: Tips and Tricks to Maximize Your Retirement at Any Age
But the period of low rates is ending. Since December 2015, the Fed has raised rates four times.
This year, interest rates rose above 1% for the first time since 2008. And with the Fed planning one more rate hike in 2017, and potentially three more in 2018, interest rates could rise above 2% next year.
While the FOMC is meeting today (Nov. 1), it's unlikely that it will vote to raise rates during this meeting. Instead, the Fed is expected to raise rates in December.
Again, we aren't predicting higher rates will cause a stock market crash, but pulling liquidity out of the economy could slow the stock market's growth.
And with stocks at record-high valuations, a sell-off could spiral into something worse.
Fortunately, there is a simple, practical way to protect your money, and even profit, if the stock market crashes in November. The best part is, you don't even have to pull your money out of the stock market…
How to Protect Your Money with a Stock Market Crash Plan