Penny stocks can offer triple-digit gains in a matter of weeks, which is why we're going to show you three penny stock gainers to keep an eye on this month. These include October's top performers, which have seen returns as high as 219.2%.
Video
The 3 Best Strategies for Trading Penny Stocks Today
But we're not recommending investing in any of these three stocks today. They've already posted triple-digit gains, meaning they might not offer much profit potential to investors who buy in now.
Instead, we're going to show you one of Money Morning Small-Cap Specialist Sid Riggs' favorite stocks to buy for 2018. It's a company in the "cashless banking" industry, a sector set to grow by 716% through 2021.
First, here are the penny stocks we're watching in November, including one up nearly 220%...
Penny Stock Gainers to Watch, No. 3: Real Goods Solar Inc.
The third penny stock gainer on today's list is Real Goods Solar Inc. (Nasdaq: RGSE). Shares of this retail solar panel company surged 189% on Oct. 4 alone and posted a total gain of 152.9% in October.
Real Goods Solar is known for being one of the first companies to sell retail solar panels in the United States. Since making its first sale in 1978, the company has expanded to all U.S. states and 10 Canadian provinces.
On Oct. 4, the RGSE stock price climbed 189%, from $0.82 to $2.37, after the firm announced an exclusive license agreement with DowDuPont Inc. (NYSE: DWDP) for its Powerhouse 3.0 solar shingles system. Under the agreement, DowDuPont will handle the marketing, sales, and installation of the new system.
As of today (Friday, Nov. 3), RGSE trades at $1.87 per share.
Penny Stock Gainers to Watch, No. 2: Neothetics Inc.
If you had bought Neothetics Inc. (Nasdaq: NEOT) on Oct. 1, you'd have a 172.3% return on your investment right now. Shares of the California biotech climbed 178.7% last month and even soared 230.8% on Oct. 17 following a major announcement.
Pot Profits: Forget Jeff Sessions! These Five Canadian Pot Stocks Are Set to Skyrocket. Click Here...
The rally came on Oct. 17, after Neothetics and Evofem Biosciences announced a merger in which Evofem would own 87% of the newly combined company. The merger would bring the companies' two lead drug candidates under one roof: Neothetics's LIPO-202, aimed at reducing body fat, and Evofem's Amphora, aimed at preventing vaginal infections.
The Neothetics stock price currently trades at $1.29.
Penny Stock Gainers to Watch, No. 1: Endocyte Inc.
Finally, our top penny stock gainer is Endocyte Inc. (Nasdaq: ECYT). It's a biotech focused on treatments for inflammatory diseases and prostate cancer. Shares of ECYT surged 219.2% in October and 317% from Oct. 2 to Oct. 3 after the firm received positive results from a drug trial.
The company's drug, called PSMA-617, is a radioligand therapeutic (RLT) that will treat patients suffering from certain types of prostate cancer. The drug is now ready for phase 3 trials and has already successfully treated more than 300 patients in previous clinical studies.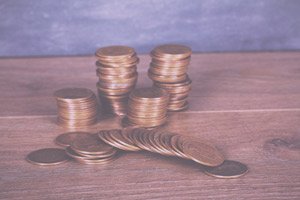 Today, Endocyte stock trades at $4.86 per share.
While these three companies show how much money you can make with penny stocks, the reality is that these gains are in the past. Just because these stocks showed triple-digit returns last month doesn't mean there will be a repeat performance in November.
Instead, Sid is recommending a different stock with future gains in mind. He's known for giving readers small-cap winners. For example, his Neurocrine Biosciences Inc. (Nasdaq: NBIX) recommendation has netted readers a 693.6% profit since first picking it in December 2013.
Today's recommendation is one of the most dominant firms in "cashless banking." This is a growing industry in the financial sector focused on mobile banking transactions. These include depositing checks and making direct payments via services like Venmo and Apple Pay.
According to Sid, the total value of these mobile transactions around the world could hit $865 billion in 2021. This would be up 716% from the current value, near $106 billion.
This stock is trading under $10 a share, but it won't be for long...
Buy This Small-Cap Stock to Profit from Mobile Banking in 2018